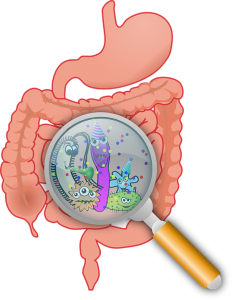 Although some fats are healthy in a balanced diet, too much of anything can be a harmful thing. For some people, like those with irritable bowel syndrome, too much fat in the diet may cause digestive distress. And for those with conditions like pancreatitis, fat is not digested well, so must be limited in the diet. Recent research shows that anyone, no matter their health status, may be at risk for gut health issues on a high fat diet.
What exactly is gut health?
When you hear about gut health, probiotics may come to mind. Probiotics are good bacteria that are important to help balance the health of the gut microbiome. It's a vital part of gut health. You can consume probiotics through daily supplements that are diverse and potent. However, if you prefer, you can also consume probiotics through fermented foods like yogurt, sauerkraut, kimchi, and kombucha, for example.
In order to make sure those probiotics thrive, it's also important to feed those good bacteria and protect the gut. Therefore, you can feed the gut bacteria by eating foods known as prebiotics. Prebiotics are fibers that help feed probiotics. Such prebiotic foods include asparagus, yams, and bananas, to name a few. The more diverse the gut bacteria in your gut, the healthier your gut and in turn your body.
All about fats
High fat diets have been all the rage in recent days from keto to low carb diets. These diets may have some benefits such as weight loss and helping to control blood glucose levels. This however is likely when people consume mostly healthy, unsaturated fats in their diet. Research shows that when people replace saturated fat content with unsaturated fat content, they have heart health benefits.
Saturated fats include those in foods such as dairy, fatty meats, butter, and some vegetable oils, to name a few. On the other hand, unsaturated fats include foods such as avocado, nuts, seeds, and plant-based oils like olive, coconut, and avocado oils.
Fat intake and gut health
A recent study looked at the impact of a high fat diet on the gut microbiome. A 6-month trial placed healthy people on either a low, moderate, or high fat diet. Blood and fecal samples were tested at baseline and after the study to assess gut health.
Study results show that the lower fat diet produced the highest alpha bacterial diversity, or richness of bacterial species in the gut as compared to the high fat diet. Also, those in the high fat diet had changes to long-chain fatty acid metabolism. This in turn resulted in higher levels of chemicals that could potentially trigger inflammation. Higher levels of inflammation in the body can lead to increased risk of chronic inflammatory diseases like heart disease and diabetes, to name a few.
Researchers suggest that those who traditionally consume a high carbohydrate, low fat diet who transition to a higher fat diet may be at most risk for high fat diet-related health risks. Further studies need to be done to see if those already on a moderate fat diet may be at health risk if they transition to a high fat diet.
Other ways to help gut health
Besides balancing the fat intake in your diet, there are other ways to help improve your gut health. Follow the tips below to help your gut feel happier and healthier today.
Consume plenty of fruits and vegetables each day. Fruits and vegetables contain a variety of gut-friendly fibers and antioxidants. The antioxidants can help reduce inflammation in the body and strengthen immunity. This can reduce chronic disease risk and improve overall health status.
Take a daily gut health supplement. If you don't feel like you eat enough produce each day, then a probiotic supplement may be helpful for you. One such supplement is Biovia 30 by Vita Sciences. Biovia 30 contains 30 billion organisms from 10 different strains of healthy bacteria.
Limit inflammatory behaviors. Lifestyle behaviors like smoking, drinking caffeine, and consuming alcohol can all negatively impact gut health. Therefore, limit or avoid such activities to lower your chronic disease risk and improve your gut and overall health.
-written by Staci Gulbin, MS, MEd, RD of LighttrackNutrition.com