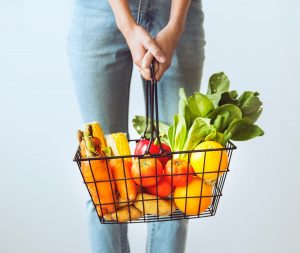 Have you ever been told to eat your veggies? Many of us have been told as children that vegetables and other plant-based foods would help us grow strong. And as adults, you may have been told that eating more vegetables will help you manage your weight. But recent studies show that plant-based foods may also be good for your gut health, especially for those with Crohn's disease.
What is Crohn's disease?
Crohn's disease is a type of inflammatory bowel disease (IBD) that can greatly impact quality of life. Those with the condition have symptoms like abdominal pain, severe diarrhea, weight loss, malnutrition, and fatigue. Also, people with severe forms of the disease can also have inflammation in their skin, eyes, joints, and liver too.
If you think you may have Crohn's disease, there are certain tests that can help diagnose it. Such tests include a colonoscopy, a CT scan, an MRI scan, or certain blood tests like a fecal occult blood test. Once diagnosed, you can treat this condition with anti-inflammatory medicines, immune system suppressors, or antibiotics. Other medicines people may use to relieve symptoms of Crohn's include:
anti-diarrheals
pain relievers
iron supplements
vitamin B-12 shots
calcium and vitamin D supplements
People with Crohn's disease may need some vitamin supplements since the disease can sometimes cause deficiencies. For example, the disease can cause B-12 deficiency in some or may cause anemia due to blood loss from blood in the stool. Also, those with the disease  may be at higher risk for the bone weakening condition osteoporosis which can make calcium and vitamin D supplements necessary to help strengthen bones.
Why is a plant-based diet good for you?
A diet rich in plant-based foods are healthy for you for many reasons. Plant-based foods like fruits, vegetables, nuts, and seeds contain not only fiber, but also antioxidants. Antioxidants help reduce inflammation in the body, and therefore can help reduce risk of inflammatory diseases like heart disease, diabetes, and digestive conditions like IBD.
In fact, research shows that a plant-based diet can improve weight, blood glucose levels, as well as mental health. In turn, such a diet can help increase quality of life of those with diabetes. Therefore, adding in at least 1.5 cups of fruit and 2 cups of vegetables a day into your daily regimen can help enhance your health for many years to come in many ways.
Plant-based diet and Crohn's disease research
A recent case study shows promise that a plant-based diet may help those with Crohn's reduce symptoms. One man with Crohn's disease started a plant-based diet with no animal-based products or highly processed foods after treatment for his disease was not fully working. Although he received IV infusions of medication every two months for a year to help his symptoms, he still had not achieved remission of his symptoms. He still suffered with abdominal pain, bloating, and fatigue.
So, during his second year of using medication, he started a plant-based diet. After six months of sticking to this diet and exercising, a colonoscopy revealed "complete mucosal healing with no visible evidence of Crohn's disease." Now researchers are not sure if this type of diet would help everyone with the condition, but it does provide experts with the drive to do more research into this type of diet for those with the condition.
Other ways you can improve gut health
Besides eating a plant-based diet, there are other ways you can help your gut health including the following:
Eat more fermented foods: Foods like yogurt, sauerkraut, kimchi, or drinking kombucha contain healthy bacteria. Therefore, they can provide the body with good bacteria that can help increase diversity in the gut, and in turn reduce inflammation.
Take a probiotic supplement daily. A probiotic supplement is another way to get more healthy bacteria into your gut. Be sure to take one daily that contains a diverse array of strains and at least 1 billion colony-forming units (CFUs) like Biovia30 by Vita Sciences. Biovia30 contains 10 probiotic strains with a total of 30 billion CFUs per serving to help promote digestive health.
Manage stress: Whether you use yoga, meditation, or talk therapy to help you manage stress, be sure to do something to help you stay calm. This is because stressors, even those like a lack of sleep, can disrupt the bacteria in the gut.
Exercise often: Research shows that those who exercise most days of the week have a greater diversity of gut bacteria than those who don't. So, try to be active as often as you can to help your gut health.
-written by Staci Gulbin, MS, MEd, RD, LDN
References:
Centers for Disease Control (November 16, 2017) "Only 1 in 10 Adults Get Enough Fruits or Vegetables."
Leonard, J. (May 28, 2019) "10 ways to improve gut health." Medical News Today.
Mayo Clinic (June 26, 2019) "Crohn's disease."
Paddock, Ph.D., C. (June 27, 2019) "Could a plant-based diet be the answer to Crohn's disease?" Medical News Today. 
Toumpanakis, A., Turnbull, T., and Alba-Barba, I. (October 2018) "Effectiveness of plant-based diets in promoting well-being in the management of type 2 diabetes: a systematic review." BMJ Open Diabetes Res Care., 6(1):e000534.