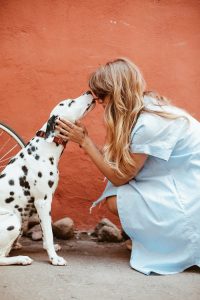 Anxiety and depression can take a huge toll on quality of life. It can affect your work, relationships, and can also make it hard to take care of your yourself. However, recent research shows that having a pet may help reduce anxiety and depression. Therefore, let's learn more about how a pet could improve mental health status as well as other ways to help yourself feel happier and healthier.
Basics of mental health
By definition, mental health involves your social, emotional, and psychological well-being. And a person may be more prone to such issues through factors like genetics, traumatic life experiences, or a family history of such issues.
There are many types of mental health issues, with the most commonly known being anxiety and depression. Some general signs of such issues include:
eating too much or too little
mood swings
Low energy
unexplained aches and pains
inability to perform daily tasks
feeling confused or on edge
These are just a few early warning signs of mental health issues. And if you notice such signs, it may be time to visit a healthcare professional. Also, you can visit the Mental Health America website for helpful resources.
Pets for better mental health
The Anxiety and Depression Association of America reports that the "pet effect" may help reduce symptoms of anxiety and depression. Experts also report that pets and therapy animals can lower feelings of stress, loneliness, and isolation. Not only that, but research also shows that pets can spark biological changes that can help reduce anxiety and depression.
One of these changes is that having a pet encourages physical activity. Exercise can improve not only brain health, but also the health of your body. This in turn can help improve your quality of life.
Pets can also improve your social support networks. For example, when you take your dog to the park or in public, people will likely interact with you and your pet. This in turn could help you feel more connected to your community. Also, this connection could help you feel less lonely and isolated.
Recent pet research 
Also, the presence of a pet in the home could help you feel a sense of security and protection. A 2019 study looked at the impact of pets on physiology of college students. The study divided 249 students into four groups. One group had 10 minutes stroking and playing with cats and dogs. Then, another group observed those people interacting with the animals. Finally, the other two groups either looked at slideshows of animals or simply sat and waited in silence.
All the students had their saliva samples taken in the morning and after their interaction. Study results show that those who interacted with the animals had significantly lower cortisol, or "stress hormone," levels as compared to baseline than the others. This early study shows promise that having a pet could help reduce mental stress in the body and mind. In turn, having a furry friend could help improve quality of life for their owners.
Other ways to improve mental health 
If you don't want a pet or don't have the time or money to care for a pet, there are other ways to improve mental health at home.
Improve your diet: Experts report that eating foods high in refined sugars, like sugary drinks and processed snacks, are harmful to the brain. In turn, they can impair brain function and lead to mental health disorders like depression. Therefore, try to limit such foods in the diet and focus on adding more antioxidant-rich foods like fruits and vegetables that can reduce inflammation in the body and mind.
Add a supplement: In addition to eating healthier foods, you can also add a supplement to help improve your mood. An example of such a supplement is Elevia by Vita Sciences. Elevia contains natural ingredients like GABA and 5-HTP that help calm the mind and body while boosting serotonin, or "feel good hormone" levels.
Move more: Exercise helps release endorphins that can reduce stress in the body and mind. Therefore, try to be active each day by walking, jogging, cleaning house, dancing, or swimming, to name a few ideas.
Get involved: Volunteering in your community or joining groups like a walking group or arts and crafts group can help you feel better. This is because it will help yo feel less isolated and will provide you a better sense of purpose in your life.
Find support: Talking to a counselor or joining a support group can help you talk about what is causing stress in your life. And by talking about it, you can obtain resources from others to help reduce stress in your life. However, always be sure to talk to a qualified healthcare professional first if you feel you may be depressed or anxious.
Take home message
Taking care of your mind is just as important as taking care of your body. Therefore, whether it be a pet or gaining support from your community, there are plenty of small things you can do to help yourself. However, if you feel like you don't know where to start, then visit your healthcare provider for resources.
-written by Staci Gulbin, MS, MEd, RD, LDN
References:
Anxiety and Depression Association of America (accessed July 22, 2019) "Tips."
Feldman, S. (November 2018) "Alleviating Anxiety, Stress and Depression with the Pet Effect." Anxiety and Depression Association of America. 
Mental Health Foundation (accessed July 22, 2019) "Pets and mental health."
MentalHealth.gov (last updated April 5, 2019) "What Is Mental Health?"
Sandoiu, A. (July 19, 2019) "More evidence that pets benefit mental health." Medical News Today. 
Selhub, M.D., E. (November 16, 2015) "Nutritional psychiatry: Your brain on food." Harvard Health Publishing: Harvard Medical School.