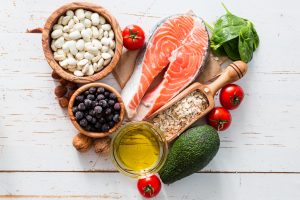 You can't talk about a heart healthy lifestyle without at least referring to the Mediterranean diet. That's because this Greek-style eating plan is full of heart healthy foods and other healthful tips. But did you know that this diet is also good for brain health? Recent research shows that certain nutrients found in the Mediterranean diet can help with brain health aging in older adults.
What is the Mediterranean diet?
The Mediterranean diet is a heart healthy diet based on healthy fats like olive oil. Along with olive oil, healthy fat-containing foods like fatty fish, avocado, olives, nuts, and seeds make up the largest portion of the diet. The omega-3 fatty acids in these foods can help lower blood fats, also known as triglycerides. In addition, these fats can also help improve blood pressure and blood vessel health.
The majority of foods in this eating plan are plant-based. In other words, this means eating plenty of antioxidant-rich fruits and vegetables. These foods will also provide fiber and important nutrients like potassium, magnesium, and vitamins C and E. This also means switching to whole grains if you're going to eat breads or pastas.  Also, it encourages consuming fiber and protein-rich plant foods like beans, peas, nuts, and seeds.
Other eating guidelines of this diet include limiting whole-fat dairy products, red meat, processed foods, and foods high in sodium. This eating plan also encourages use of spices to flavor food instead of using table salt.  Finally, to maintain a balanced healthy lifestyle, this diet encourages exercise and eating meals with family and friends.
Mediterranean diet and brain health
A recent study looked at healthy, older adults and how a Greek-style diet affected brain health. MRI scans and cognitive function tests measured brain health. These tests were done throughout the study and two years after the study to assess the diet's impact on brain health.
The researchers focused on 32 nutrients found in this diet. These nutrients included folate, vitamin B12, riboflavin, and vitamin D. Also, the researchers looked at antioxidants found in the Greek-style diet like omega-3 fatty acids, lycopene, and carotenoids. Study results show that such nutrients, along with omega-6 fatty acids, were involved in biomarker patterns. Also, those people who ate foods with such nutrients had better results on cognitive function tests of general intelligence, memory, and executive functions like attentional and inhibition control.
Take home message
So, if the heart healthy benefits of this eating plan haven't convinced you to go Greek-style in your eating, hopefully the brain health factors did. This is because this diet has shown time and again that it ranks on top for health benefits.  Therefore, take small steps towards such an eating plan. You can do this by starting to eat more vegetables one day. Then maybe trying new recipes that use olive oil to roast or stir-fry those vegetables. Finally, you can add in nuts and/or seeds as snacks for even more healthy fats and fiber.
If you feel like a supplement would help you at first, then try an omega-3 fatty acid supplement. An example of a high quality omega-3 fatty acid is the fish oil supplement by Vita Sciences. This fish oil supplement contains a healthy balance of EPA and DhA, which are two important omega-3 fatty acids for brain health. Not to mention that this supplement is burpless and ensures optimal purity.
Therefore, if you're thinking about starting a healthy lifestyle this new year, consider the Greek-style diet. Not only will it help you work towards just about any health goal you have, but it will taste fresh and delicious in the process.
References:
Mayo Clinic (November 3, 2017) "Mediterranean diet: A heart-healthy eating plan."
Paddock, Ph.D., C. (December 21, 2018) "Mediterranean diet nutrients tied with healthy brain aging." Medical News Today.
Romagnolo, D. F., & Selmin, O. I. (2017). "Mediterranean Diet and Prevention of Chronic Diseases." Nutrition today, 52(5), 208-222.
Zwilling, C.E., Talukdar, T., Zamroziewicz, M.K., and Barney, A.K. (March 2019) "Nutrient biomarker patterns, cognitive function, and fMRI measures of network efficiency in the aging brain." NeuroImage, Volume 188, 239-251.