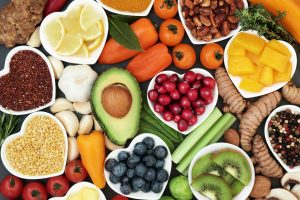 It may seem like common sense that living a healthier lifestyle can lower your disease risk. but what exactly is a healthier lifestyle? With so much information on health and wellness in the media, it can be hard to know what healthy really is. From low carb to keto to fasting, each diet plan claims to be the best and healthiest. However, the healthiest eating regimen is going to be the one that makes your unique body feel its best and that you can stick with for the long term. Not to mention, that being healthy is about more than just diet. Staying active, managing stress, and sleeping well enough are just some behaviors that affect health. Recent research shows that leading a healthier lifestyle can reduce your stroke risk and in turn improve your quality of life.
What is stroke?
A stroke occurs when something blocks blood flow to the brain, or when a blood vessel in the brain bursts. As a result, part of the brain can become damage or die. This can lead to brain damage, disability, or death. Therefore, it is important to know if you are at risk for stroke. And if you are, it is important to know what you can do to lower your risk. This is because the brain is vital for such functions as thinking, feeling, breathing, and digestion. So to take care of your whole body health, you need to take care of your brain. And for brain health, you need to take care of your body in many ways. This is where healthy living comes in.
Stroke risk and healthy living
A 7-year research study looked at the impact of different lifestyle measures on stroke risk. Also, researchers looked at 90 gene variants in this group of over 300,000 people to determine their stroke risk. The stroke rate was 35-percent higher for those with a higher gene score versus one with a lower score. And when researchers looked at lifestyle factors, those who were healthier had a 66-percent lower risk of stroke than those who had an unhealthy lifestyle. In this study, those considered to have a healthy lifestyle were those that:
did not smoke.
were not overweight.
engaged in regular exercise.
consumed a diet rich in fruits, vegetables, and fish.
Furthermore, those who had a high genetic score and were considered unhealthy had a stroke risk score nearly double than that of those with the lowest scores and healthiest lifestyles.
Ways you can live your healthiest life
Besides eating right, staying active, and not smoking, there are several other things you can do to stay your healthiest.
Sleep enough each night: Research shows that short or too long sleep patterns as well as insomnia with short sleep patterns, can increase risk of stroke. Therefore, be sure to find a happy balance in your sleep time. the National Sleep Foundation recommends that most adults sleep seven to nine hours each night. If you find you are having trouble sleeping, it may be helpful to visit your doctor for treatment. They could recommend a sleep study done to identify any health issues that could be disturbing your sleep.
Manage stress: Stress affects all of us to some degree. However, too much stress can have an impact on your heart health. Therefore, be sure to manage your stress with some relaxation breathing, meditation, yoga, or talking to a counselor each week.
Visit your doctor regularly: It's important to visit your doctor at least once a year to check your numbers. Your numbers include cholesterol, triglycerides, blood glucose levels, blood pressure, and body weight. These numbers can help identify any heart health risk factors you may have. The earlier you find such risk factors, the earlier you can receive treatment and prevent your risk of stroke.
Take supplements when necessary: If you are lacking certain vitamins or minerals in your diet, you may need a supplement such as a multivitamin or fish oil. This can help your body receive the antioxidants you need to fight oxidative stress and lower chronic disease risk factors. One such supplement is Circova by Vita Sciences. Circova contains ingredients like L-arginine, niacin, and hawthorne to help promote improved blood flow and blood pressure.
-written by Staci Gulbin, MS, MEd, RD
References:
Centers for Disease Control and Prevention (May 3, 2018) "About Stroke."
HealthDay (October 25, 2018) "Does Stroke Run in Your Family? Healthy Living Lowers the Risk."
Koo, D. L., Nam, H., Thomas, R. J., & Yun, C. H. (2018). Sleep Disturbances as a Risk Factor for Stroke. Journal of stroke, 20(1), 12-32.
Meschia, J.F., et al. (2014) "Guidelines for the Primary Prevention of Stroke." Stroke, 45(12): 3754-3832.
National Sleep Foundation (accessed October 30, 2018) "National Sleep Foundation Recommends New Sleep Times."