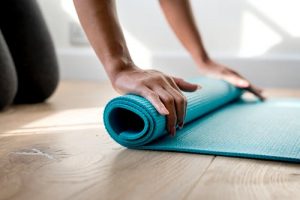 When you receive a diabetes diagnosis, it can be a life-changing time. This is because diabetes treatment can involve a change in diet, new medications, and checking blood glucose levels at home. Not to mention, that is can be scary to know that you have a condition that will be with you for life. It can be overwhelming and for some can cause depression. Fortunately, a recent study shows that adding exercise to your daily routine may help those with diabetes-related depression improve quality of life in body and mind.
What is depression?
Depression is a condition in which a person feels some of the symptoms listed below for a period of two weeks or more. These symptoms negatively impact quality of life at work, home, and in relationships. Such symptoms include:
Feeling sad
Loss of interest or pleasure in activities once enjoyed
Changes in appetite with weight loss or gain unrelated to dieting
Trouble sleeping or sleeping too much
Loss of energy or increased fatigue
Slowed movements and speech (actions observable by others)
Feeling worthless or guilty
Difficulty thinking, concentrating or making decisions
Thoughts of death or suicide
Depression is typically treated with medications and psychotherapy. Also, in severe cases, electroconvulsive therapy may be used. However, recent studies show that exercise may be helpful in decreasing symptoms of depression, especially in cases of diabetes-related depression.
Exercise and diabetes-related depression
Experts report that those people with diabetes are twice as likely to develop depression as those without the condition. Therefore, this group of people is of major interest to researchers. In fact, a recent study looked at the impact of various treatments on those with diabetes and depression. Over 12 weeks, 140 people received either cognitive behavioral therapy (CBT), exercise, or a combo of both treatments. Those receiving exercise treatment were encouraged to stay active with moderate exercise for 150 minutes a week.
Study results show that those in the exercise group had the highest odds of major depressive disorder depression than those not receiving this treatment. Also, those who received the combo treatment of exercise and CBT had a twice as likely chance to go into remission from their depression. Although this study shows promise that exercise is helpful for depressive symptoms, you should not stop your usual care plan. Use exercise only as a part of your treatment plan and not the entire treatment plan.
About moderate exercise
In order to reap the benefits of exercise, it's important to stay active at a moderate intensity for at least 30 minutes a day for most days of the week. Moderate exercise is defined as exercise that makes your breath quicken, but you're not out of breath. Also, moderate exercise may make you break out into a light sweat after about 10 minutes. Finally, this type of exercise may be done while you talk, but not while you sing. Examples of moderate exercises include brisk walking, swimming, or mowing the lawn.
Other ways to reduce depression
Besides exercise, other ways to reduce depression symptoms include:
Meeting with a qualified therapist or psychologist to talk on a regular basis. Health professionals in this field can help you to manage depressive symptoms. Also, they can recommend you to a psychiatrist that can assist with any medicines that may be helpful to you in treating symptoms.
Performing daily relaxation exercises like yoga, meditation, or relaxation breathing. Research shows that such exercises can help reduce depressive symptoms. Therefore, in addition to cardio exercise, be sure to practice such relaxing workouts at least once a week or more.
Eating a balanced diet with plenty of antioxidant-rich fruits and vegetables. Such foods can help reduce inflammation in the body and in turn may help reduce depressive symptoms. Therefore, be sure to add a variety of brightly-colored produce to your meals and snacks to improve the health of your body and mind.
Taking a daily supplement. A supplement like Elevia by Vita Sciences may help improve mood in those with depression. Elevia contains compounds like GABA and 5-HTP which can calm the mind and boost the "feel-good" hormone serotonin. Also, if you are low in certain vitamins like B-12, B-6, or folate then you may experience symptoms of depression. Therefore, a supplement to replenish such vitamins may help improve your quality of life. So, be sure to have your labs tested for such vitamins to see if you are deficient.
References:
American Psychiatric Association (accessed May 29, 2019) "What is Depression?"
de Groot, M., et al. (2019) "Program ACTIVE II: Outcomes From a Randomized, Multi-State Community-Based Depression Treatment for Rural and Urban Adults With Type 2 Diabetes." Diabetes Care, https://doi.org/10.2337/dc18-2400
LaChance LR, Ramsey D. (September 2018) "Antidepressant foods: An evidence-based nutrient profiling system for depression." World J Psychiatry, 8(3):97-104.
Mayo Clinic (May 15, 2019) "Exercise intensity: How to measure it."
Mayo Clinic (June 1, 2018) "Vitamin B-12 and depression: Are they related?"
Streeter CC, et al. (March 2017) "Treatment of Major Depressive Disorder with Iyengar Yoga and Coherent Breathing: A Randomized Controlled Dosing Study." J Altern Complement Med., 23(3):201-207.