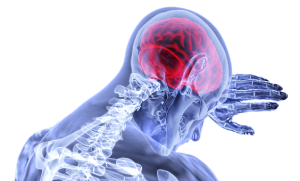 Recent statistics show that stroke is the number five cause of death and disability in the United States. This is why it's so important to look into what factors may increase risk of this condition and work to reduce them. For example, a recent study shows that working long hours may increase one's risk for stroke. Although this may not always be a factor that you can prevent, let's learn more about this condition and ways you can lower your risk.
What is stroke?
In technical terms, a stroke occurs when there is a clot blocking a blood vessel to the brain or when that blood vessel bursts. Since such blood vessels carry oxygen and nutrients to the brain, this type of issue can cause brain cells to die. In turn, this can lead to a variety of health issues including brain health issues or even death.
Causes of stroke
As mentioned before, there are two major causes of stroke. The most common cause  occurs when arteries to the brain become narrow or blocked. This is called an ischemic stroke. About 80-percent of strokes are ischemic strokes.
The other cause is when a blood vessel in the brain leaks or ruptures. This type of stroke is called a hemorrhagic type. Hemorrhagic strokes can be caused by factors such as high blood pressure, overtreatment with blood thinners, or aneurysms. Aneurysms occur when there are weak spots in the blood vessel walls.
Warning signs
Although you may not be able to prevent all strokes, you may be able to see warning signs. When you notice such signs, you can contact emergency medical services right away to receive treatment. Such warning signs include:
trouble with speaking such as slurred speech
issues with understanding speech
paralysis or numbness of face, arm, or leg
vision issues in one or both eyes
a sudden, severe headache
sudden dizziness, loss of balance, or loss of coordination
If you notice any of these symptoms in someone, then it's important to think fast. This is because after the onset of symptoms, brain health issues can quickly escalate. Therefore, as soon as you notice symptoms, be sure to use the acronym FAST, or:
Face: Ask the person to smile. If one side of their face starts to droop, then it may be a sign of a brain health issue.
Arms: Ask the person to raise both arms. If one arm starts to drift downward, or if they are unable to raise their arm, then there may be a brain health issue.
Speech: Ask the person to repeat a simple phrase like "How are you?" Listen closely for any slurred speech that may indicate a brain health issue.
Time: It's important not to waste any time if you notice any of these symptoms, since it doesn't take long for brain health issues to escalate from time of symptom onset.
Work hours and stroke research
A recent French study looked at the effect of work hours on stroke risk. It was found that those people who worked more than ten hours on at least fifty days per year were at higher risk for this brain health condition. Those working such long hours had a 29-percent high risk, while those who worked like this for ten years or more had a 45-percent higher risk.
How to lower risk of a stroke
Besides reducing work hours, there are plenty of other things you can do to lower your risk of a stroke.  Several of these things include taking steps to live healthier such as:
Exercising more to help improve heart health and vessel health as well as to help manage weight.
Losing weight to help reduce the stress placed on the heart and blood vessels.
Stop smoking to help lower risk of high blood pressure.
Eat a healthier diet such as reducing intake of processed, sugary, calorie-laden foods and eating more fruits and vegetables. A healthier diet can help reduce cholesterol, lower blood pressure risk, help you manage weight, and reduce risk of diabetes, to name a few.
Add a blood vessel health supplement to your daily regimen such as Circova by Vita Sciences. Circova contains ingredients like L-arginine and niacin that can help to naturally improve blood flow and blood pressure.
-written by Staci Gulbin, MS, MEd, RD
References:
American Stroke Association (accessed June 25, 2019) "About Stroke."
BBC Health (June 20, 2019) "Long working hours 'linked to stroke risk.'"
Mayo Clinic (last reviewed June 11, 2019) "Stroke."
National Institute of Neurological Disorders and Stroke (last modified January 31, 2019) "Brain Basics: Preventing Stroke."