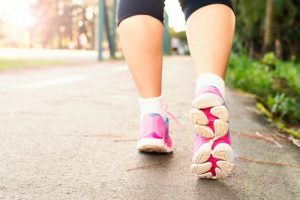 Although many of us may feel anxious from time to time, this anxiety may resolve after a hot bath or cup of tea. However, for a portion of the population, this feeling continues to affect them daily. It can impact daily life in a way that interrupts daily living such as work, sleep, and relationships. Therefore, for those with anxiety disorder, treatment options are necessary. Besides prescription medications, recent research shows that increasing intensity of exercise may help reduce symptoms of anxiety disorder.
What is anxiety?
About one out of every five people in the United States suffer from anxiety disorder. Those with this disorder are not just feeling anxious before a big event, but feel anxious most of their life. For example, these people feel an excessive amount of dread that is persistent and uncontrollable.
Anxiety disorder can come in many forms such as obsessive-compulsive disorder (OCD). Those with OCD may feel like if they do not perform certain, often repetitive tasks that something bad will happen. Other forms of anxiety disorder include generalized anxiety disorder (GAD), panic attack disorder, and phobias.
General symptoms
If you experience the following symptoms as well as excessive worry for at least six months, then you may have GAD. If you feel this may be you, be sure to see a qualified healthcare provider for treatment options.
feeling nervous or on edge
having a sense of impending danger
increased heart rate
rapid breathing rate
difficulty concentrating
trouble sleeping
digestive issues
weakness or fatigue
How is anxiety treated?
Anxiety treatment usually involves prescription medicines, especially for those with moderate to severe forms. Also, therapy can help with symptoms, whether you take medicine or not, to help teach you ways to manage symptoms. A common form of therapy used is called cognitive behavioral therapy (CBT). CBT teaches people how to think, behave, and react differently to those situations in life that produce the most anxiety for them.
How can exercise help anxiety?
Research shows that exercise can be a great supplemental treatment for anxiety. This is because studies show that exercise can, in the long-term, reduce inflammation in the body. In turn, a person can not only lower risk of inflammatory conditions like heart disease and diabetes, but also anxiety and depression.
In fact, research shows that exercise, especially moderate to high intensity exercise, can lower pro-inflammatory markers in the body. Another 2018 study looked at exercise impact in those with panic disorder. Study results show that although exercise increased stress right after performing it, it lowers depression and anxiety scores over the long-term.
About exercise intensity
To reap the mental health rewards of exercise, intensity matters. Studies show that moderate to high intensity is best for reducing mental health symptoms. According to the Mayo Clinic, moderate intensity exercise occurs when:
your breath quickens, but you're not out of breath
a light sweat develops after about 10 minutes
you can talk while moving, but cannot sing
On the other hand, high intensity exercise will produce deeper and more rapid breaths and you will start sweating in a few minutes. For optimal health of mind and body, most adults should move at a moderate intensity at least 150 minutes a week, or at least 30 minutes for 5 days a week. Or, if you prefer higher intensity exercise, move at this intensity at least 75 minutes a week, or at least 15 minutes a day for 5 days a week.
Other natural treatments
Besides exercise, there are other natural treatments that can help reduce inflammation in the body. Eating more fruits and vegetables each day can provide anti-inflammatory antioxidants that can help. Also, you could take a natural supplement daily such as Sereneo by Vita Sciences. Sereneo contains ingredients like magnesium, chamomile, and valerian to help promote higher levels of the "feel good hormone" serotonin in the body. Be sure to ask your healthcare provider before starting any new supplement regimen.
Take home message
If you suffer from anxiety, then you may be desperate for treatment that will improve your quality of life. Along with medicines and therapy, exercise can be an effective adjunct treatment. Not only that, but exercise can also improve your physical health as well. So, start moving a little more each day to help both your body and mind be in its best health.
-written by Staci Gulbin, MS, MEd, RD, LDN
References
Anxiety and Depression Association of America (accessed July 8, 2019) "Understand the Facts."
Anxiety and Depression Association of America (accessed July 8, 2019) "Symptoms."
Aylett, E., Small, N., and Bower, P. (July 2018) "Exercise in the treatment of clinical anxiety in general practice – a systematic review and meta-analysis." BMC Health Serv Res., 18(1):559.
Lattari, E., et al. (February 2018) "Effects of Aerobic Exercise on Anxiety Symptoms and Cortical Activity in Patients with Panic Disorder: A Pilot Study." Clin Pract Epidemiol Ment Health,14:11-25.
Mayo Clinic (May 15, 2019) "Exercise intensity: how to measure it."
National Institute of Mental Health (July 2018) "Anxiety Disorders."
U.S. Department of Health and Human Services (last reviewed on February 1, 2019) "Physical Activity Guidelines for Americans."