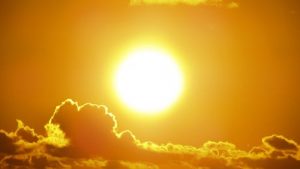 You may not realize it, but as you stand outside you are soaking up vitamin D. This is because the rays of sunshine beaming down on you help stimulate synthesis of this vitamin. Even with this natural source of vitamin D, some of us may still be deficient. Research shows that this may lead to issues with insulin sensitivity. Let's learn a little more about this body's need for the sunshine vitamin for optimal metabolic health.
How much vitamin D do I need?
Just 30 minutes of sun exposure in the late morning and early afternoon will fulfill your vitamin D needs. However, you need to make sure you expose either your face, arms, legs, or back without sunscreen. Also, be sure to do this twice a week for optimal absorption.
But if you live in certain climates or have certain risk factors, you may be at risk for vitamin D deficiency. Those groups of people at risk for deficiency include:
Breastfed infants
Older adults
People with limited sun exposure
Dark-skinned persons
Those with fat malabsorption issues
Health benefits of the sunshine vitamin
Vitamin D is well-known for its important role in bone health. It helps the body absorb calcium better. This is turn, can promote strong, healthy bones. However, besides bone health, new research shows the importance of this sunshine vitamin in other aspects of health. For example, some experts suggest that vitamin D could help improve metabolic health.
Vitamin D and metabolic health
A recent study looked at a group of nearly 100 adults at least 25 years old with newly diagnosed diabetes. The adults received either placebo or 5000 IU of vitamin D daily. Glucose tolerance tests and insulin sensitivity tests were done at baseline and after six months. Study results show that vitamin D supplements can help improve insulin sensitivity in those with type 2 diabetes or prediabetes. Those without type 2 diabetes did not see any significant improvement.
Because of this research, it shows the importance of having your vitamin D levels checked. If you can catch your deficiency, then you can start on a supplement to help protect your bone and metabolic health.
Other ways to improve metabolic health
Besides taking a vitamin D supplement, there are other things you can do to improve your  metabolic health.
Move more: According to recent research, exercise can help you better manage blood glucose levels and improve insulin sensitivity. Therefore, try to move at least 30 minutes a day most days of the week for optimal heart and metabolic health. And don't forget to add in some resistance training twice a week for about 15 minutes to help maintain lean muscle mass and healthy metabolism.
Eat more soluble fiber: Some research shows that eating more foods high in soluble fiber can help improve insulin sensitivity. Foods high in soluble fiber include oats, barley, nuts, seeds, beans, lentils, and some fruits and vegetables. Not to mention that soluble fiber slow digestion and help your body absorb more nutrients from the food you eat.
Taking dietary supplements when needed: Besides vitamin D, experts also suggest that consuming probiotics or omega-3 fatty acid supplements may help improve insulin sensitivity in those with type 2 diabetes. Also, supplements like Glucarex by Vita Sciences may help improve the health of those with diabetes. Glucarex contains compounds like chromium, alpha lipoic acid, and cinnamon. These natural compounds help promote healthy weight loss, metabolism, and blood glucose levels.
Take home message 
There are many ways to help improve metabolic health. But one way you may have never thought of is getting enough vitamin D. Now that you know, it's important to have these vitamin levels checked at least once a year so you can stay on top of your numbers. And along with moving more and eating a healthier diet, you can ensure optimal health.
-written by Staci Gulbin, MS, MEd, RD
References:
Lemieux, P., et al. (2019) "Vitamin D supplementation increases insulin sensitivity, beta-cell function." European Journal of Endocrinology, https://doi.org/10.1530/EJE-19-0156
Lillis, C. (March 29, 2019) "Natural ways to improve insulin sensitivity." Medical News Today.
Medline Plus (last updated July 10, 2019) "Soluble vs. insoluble fiber."
National Institutes of Health Office of Dietary Supplements (last updated July 9, 2019) "Vitamin D."