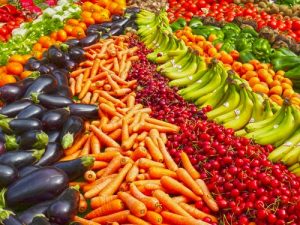 Unless you have kidney disease, you may not realize how important these small organs are to overall health. Although they are only about the size of a fist each, these bean-shaped organs do a lot for your body. Their main function is to filter the blood. However, they also work to remove wastes from the body as well as remove extra water to produce urine. The kidneys also make hormones to help with bone health and blood pressure health.
Because of these important functions, it's important to eat healthy to take care of your kidneys. The Kidney Foundation endorses a DASH (Dietary Approaches to Stop Hypertension) diet for kidney disease. This diet is rich in fruits and vegetables and lean proteins and is low in sodium and added sugar. A recent study confirms such recommendations by saying that a plant-based diet is key to kidney health. Let's learn more about the plant-based diet and how it can help kidney health.
About the plant-based diet
A plant-based diet is well-known for its benefits to heart health and lowering risk of diabetes. If yo want to follow such a diet, you don't need to eat just plants to reap the health benefits. However, just adding plant-based foods to meals and snacks each day can help you gain fiber and a variety of nutrients. Such nutrients include antioxidants that can reduce oxidative stress and lower risk of chronic diseases like heart disease and diabetes.
Experts suggest that there are three types of plant-based diets that include:
An overall plant-based diet: This diet focuses mainly on plant-based fruits, vegetables, nuts, and seeds, while limiting all types of animal products. These animal products include meats, fish, poultry, dairy products, and eggs.
A healthful plant-based diet: This diet focuses on consuming mostly plant-based whole foods like fruits, vegetables, nuts, seeds, and legumes. In addition, this diet limits less healthy plant-based foods like processed foods and also limits animal products.
An unhealthful plant-based diet: This type of diet consists mostly of unhealthy plant-based foods such as processed fruit juices, refined grains like pasta and white rice, as well as potatoes like french fries.
It was found that those following the healthful plant-based diet had the lowest risk of heart disease. On the other hand, those who followed the unhealthful plant-based diet had the highest heart health risk.
When it comes to kidney health, the plant-based diet can provide many health benefits.  One of the primary benefits is that it will hamper the development or progression of some complications of kidney disease like heart disease. Also, research shows that a plant-based diet can help improve blood pressure, and glomerular filtration rate (GFR), of which the latter describes the flow rate of fluid through the kidney.
Kidney health diet recommendations
Vegetarianism, full or part-time, is recommended for those with kidney health issues. Therefore, a healthful plant-based diet, as mentioned before,  could be beneficial to kidney health. In fact, a recent report by the American College of Physicians states that a plant-based diet could slow the progression of chronic kidney disease (CKD) and improve symptoms.
The plant-based diet is recommended since diets rich in vegetable proteins, rather than animal proteins, can improve acidosis and slow nephropathy in patients with CKD and poor renal function.  Examples of plant-based diets, such as the Mediterranean and DASH diet, are recommended to improve kidney health.
Take home message
If you want to keep your kidneys healthy or improve the health of diseased kidneys, then the plant-based diet is the way to go. You can start slow by adding a serving of fruits or vegetables each day to meals and snacks. Then, slowly weed out most high sodium and high sugar foods from your diet. Before you know it, your body will feel better inside and out and your kidneys will be able to do their job the best it can.
If you still feel you need extra help with kidney health, try a supplement like Urivo by Vita Sciences. Urivo contains cranberry and probiotics, or healthy bacteria, that support immune system, bladder, and kidney health.
-written by Staci Gulbin, MS, MEd, RD
References:
American College of Physicians Internal Medicine Meeting (April 17, 2019) "Best dietary practices for those with CKD." Healio
Gluba-Brzózka A, Franczyk B, Rysz J. (April 2017) "Vegetarian Diet in Chronic Kidney Disease-A Friend or Foe." Nutrients. 9(4):374.
Harvard Health Publishing Harvard Medical School (January 2018) "The right plant-based diet for you."
National Institute of Diabetes and Digestive and Kidney Diseases (June 2018) "Your Kidneys & How They Work."
National Kidney Foundation (last reviewed February 2, 2017) "The DASH Diet."