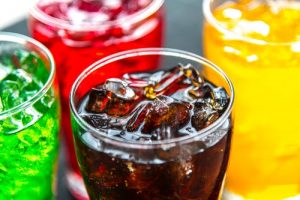 Anyone who has been on a healthy lifestyle plan knows that you should try not to drink your calories. This is because you want to cut calories wherever you can to lose weight. However, cutting out those sugary drinks are not only helpful in weight loss, but also in cutting your disease risk. In fact, a recent study found that those who drank less sugary drinks had a lower risk of chronic diseases and early death as compared to those who drank sugary drinks often.
What is considered a sugary drink?
A sugary drink can be anything from processed colas to fresh squeezed juices. Here are some examples of sugary drinks you should limit in your daily routine.
cola
milkshakes
coffee drink blends
orange, apple, or other fruit juices
certain kinds of smoothies
flavored milks
sports drinks
sweetened waters
energy drinks
These sugary drinks can be sweetened with plain sugar or one of many forms of sugar used in processed goods. Some examples of added sugars include:
brown sugar
corn sweetener
corn syrup
dextrose
fructose
glucose
high-fructose corn syrup
honey
lactose
malt syrup
maltose
molasses
raw sugar
sucrose
Sugary drinks and health outcomes research
Sugary drink intake has been linked to cognitive impairment, obesity in children and adults as well as dental caries.   Also, some research shows that sugar-sweetened beverage intake may be linked to heart health issues.
One recent study looked at the impact of sugary-sweetened beverage intake on health. Study results show that those women who drank sugary drinks more than two servings a day had a 63-percent higher risk of early death than those who drank less than one serving a month. Also, by looking at the same factors in men, those who drank more sugary drinks had a 29-percent higher risk of premature death than those who drank less.
Researchers suggest that this risk of premature death comes from chronic diseases linked with sugary drink intake. For example, those who drink more sugary drinks may have overall poorer diets. In turn, this may lead to a greater risk of obesity. Then this increase in body weight may increase risk of obesity-related diseases like type 2 diabetes, heart disease, and stroke. Therefore, it's these chronic diseases that increase the risk of early death in those that drink a lot of sugary drinks.
Other ways to reduce sugar in your diet
Besides cutting down on sugary drinks, you can cut out sugar in your diet by following the tips below.
Have healthy snacks on hand: If you're not prepared with healthy snacks in tow, then you are more likely to walk to the vending machine for a snack. However, most convenience snacks are full of added sugar and sodium. Therefore, grab some portable fruit like bananas, apples, or oranges before you leave the house for work. Fruit may also contain sugar, but it's natural sugar. Not to mention, that fruit also contains fiber and antioxidants that help reduce inflammation in the body and keep your gut healthy.
Find alternatives to sugary drink options: Instead of energy drinks, reach for a cup of coffee with some almond milk. Or instead of a soda, try drinking a seltzer water infused with fruit like lemon or limes. Also, if you enjoy your coffee blended drink, just opt for sugar-free flavorings, skim or plant-based milk options, and skip the whipped cream and chocolate or caramel drizzle on top.
Take a sugar control supplement: If you're in the midst of trying to cut down on sugar in your diet, but need a little help, then try a glucose control supplement. Glucarex by Vita Sciences is one example of a natural supplement that can help you control your blood glucose levels. This is because Glucarex contains ingredients like chromium, alpha lipoic acid, and cinnamon to help naturally support weight loss, metabolism, and healthy blood glucose levels. Therefore, such a supplement could support any healthy lifestyle habits you are trying to make to improve your health.
Know your numbers: By keeping track of your blood glucose, blood pressure, cholesterol, and triglycerides you can detect health problems before they start. Just be sure to visit your doctor often to have your labs checked at least once a year. However, you may have to visit more often if you have a family history of or diagnosis of chronic disease(s) already.
References:
Anjum, I., Jaffery, S. S., Fayyaz, M., Wajid, A., & Ans, A. H. (2018). "Sugar Beverages and Dietary Sodas Impact on Brain Health: A Mini Literature Review." Cureus, 10(6), e2756. doi:10.7759/cureus.2756
Bleich, S. N., & Vercammen, K. A. (2018). "The negative impact of sugar-sweetened beverages on children's health: an update of the literature." BMC obesity, 5, 6. doi:10.1186/s40608-017-0178-9
Bracho-Sanchez, E. (March 18, 2019) "Sugary drinks linked to higher risk of premature death, especially for women, study says."  https://www.cnn.com/2019/03/18/health/sugary-drinks-premature-death-women-study/
Centers for Disease Control and Prevention (last reviewed February 27, 2017) "Get the Facts: Sugar-Sweetened Beverages and Consumption."
Deshpande, G., Mapanga, R. F., & Essop, M. F. (2017). "Frequent Sugar-Sweetened Beverage Consumption and the Onset of Cardiometabolic Diseases: Cause for Concern?" Journal of the Endocrine Society, 1(11), 1372-1385. doi:10.1210/js.2017-00262
Luger, M., Lafontan, M., Bes-Rastrollo, M., Winzer, E., Yumuk, V., & Farpour-Lambert, N. (2017). "Sugar-Sweetened Beverages and Weight Gain in Children and Adults: A Systematic Review from 2013 to 2015 and a Comparison with Previous Studies." Obesity facts, 10(6), 674-693.