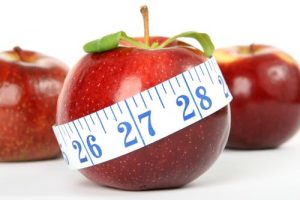 When it comes to eating healthy, your primary concern may be the short-term goal of losing weight. You may want to fit into a certain piece of clothing, or be in better shape for an upcoming event. However, it's important not to forget that eating healthy can ultimately help you to extend your life. A recent report reveals that one in five deaths globally was linked to a poor diet.
What is a healthy diet?
There is not one definition of a healthy way of eating. This is because everyone has different health backgrounds, allergies, intolerances, and preferences that they are dealing with. The way your body reacts to certain foods and the health goals you have can affect what foods may or may not be best for your eat for optimal health.
For example, if you have a condition known as irritable bowel syndrome (IBS), you would benefit from eating foods low in FODMAPs. This diet may exclude certain fruits and vegetables that contain certain starches that trigger digestive symptoms. Or, if you're on a heart healthy eating regimen, you would eat some foods that are lower in sodium to stay healthy.
So, what should I eat to be healthy?
According to a recent report of the Global Burden of Disease study published in The Lancet, researchers looked at trends in consumption of 15 dietary factors from 1990 to 2017 in 195 countries. This report found that one in five deaths were caused by a poor diet. This type of diet increased risk of diseases like heart disease and type 2 diabetes. The type of diet that seemed to increase this risk the most included those with:
too low amounts of foods such as whole grains, fruit, nuts and seeds
high levels of foods like trans fats, sugary drinks, and high levels of red and processed meats
Therefore, researchers of this study suggest that people should consume a diet that is low in sodium and high in fiber-rich foods for optimal health. Some of these foods include whole grains, fruit, nuts and seeds, and vegetables. Also, a 2018 study review confirms this finding that a plant-based diet can help reduce inflammation in the body, induce weight loss, and improve quality of life.
This health benefit of a plant-based diet comes from the antioxidant content of such plant-based foods. Fruit, vegetables, nuts, and seeds not only contain fiber and important nutrients like potassium and vitamin C. However, they also contain antioxidants that help reduce inflammation that can lead to chronic disease. Also, if you consume different colors of produce, you will reap the benefits of many different types of antioxidants.
Other ways to reduce chronic disease
Besides eating a healthy diet, there are other ways you can improve your lifestyle for better quality of life.
Exercise more to strengthen your heart and help you maintain a healthy weight. Staying active can also help you control your blood glucose levels.
Quit smoking and limit alcohol: Smoking can constrict blood vessels and increase risk of heart disease besides hurting your lungs. and as far as alcohol goes, more than one standard drink  a day for women or two standard drinks a day for men is not only harmful for the liver, but also contains empty calories that can impact weight and in turn can increase risk of inflammation and chronic disease.
Take a daily multivitamin: This can help fill in the nutritional gaps that your current diet may leave. For example, Vita Sciences offers the complete multivitamin Zestia. Zestia contains plenty of vitamins and nutrients as well as probiotics and digestive enzymes. This in turn helps you maintain gut health, while making sure you receive all of the nutrients you need for optimal health each day.
–written by Staci Gulbin, MS, MEd, RD of LighttrackNutrition.com
References:
Schumann, M.Sc., D., et al. (January 2018) "Low fermentable, oligo-, di-, mono-saccharides and polyol diet in the treatment of irritable bowel syndrome: A systematic review and meta-analysis." Nutrition, Volume 45, 24-31.
Science Daily (April 3, 2019) "Globally, one in five deaths are associated with diet."
Toumpanakis A, Turnbull T, Alba-Barba I. (October 2018) "Effectiveness of plant-based diets in promoting well-being in the management of type 2 diabetes: a systematic review." BMJ Open Diabetes Res Care,6(1).