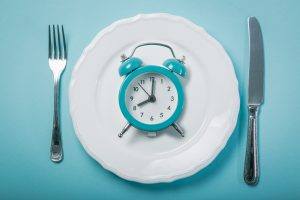 When it comes to diabetes control, you may know that carbohydrate intake must be controlled. Along with this, intake of certain concentrated sweets and sugary drinks should be limited. Also, a plant-based diet has been shown to help diabetes. Besides these traditional methods of controlling blood glucose through diet, meal timing, like intermittent fasting, may also help. Recent studies show that limiting meal times to a certain portion of the day may help improve weight and metabolic health.
What is meal timing?
Meal timing can describe a number of different ways of eating. For athletes it may mean timing meals before and after workout to ensure sufficient energy. However, for those with diabetes, it may mean planning out carbohydrate intake to control blood glucose levels. Also, meal timing could mean intermittent fasting, which limits the amount of time a person eats during each day.  Research over the past few years shows that intermittent fasting may help improve metabolic health parameters. This in turn could help improve blood glucose control in those with diabetes.
What is intermittent fasting?
There are several forms of intermittent fasting (IF), but the premise for all forms is similar. Basically, IF limits the amount of time each day that a person eats so that the body can heal during hours of fasting. The most common forms of IF include:
Fasting for 12 hours a day: Those starting out on IF can use this method to help your body adapt to fasting gradually.
The 16:8 method:  This method of IF involves fasting for 16 hours a day, and limiting eating to 8 hours daily.
The 5:2 method: This method of IF involves eating a healthy, balanced diet for 5 days. Then on the other two days, you consume only 500 to 600 calories on two, non-consecutive days of the week
Alternate day fasting: This method of IF involves fasting every other day. On fasting days, you can consume either no food or only about 500 calories. Although, you should consume plenty of low to no calorie fluids for hydration. This is an extreme form of IF, so be sure to ask your doctor before starting to make sure its safe for you.
IF and blood glucose control
Recent research shows that IF may help those with diabetes control their blood glucose. One study involved three case studies of patients with diabetes that followed IF.  Each patient fasted for 3 to 4 days a week for 7 to 11 months. Study results show that patients were able to lose significant amounts of weight and reduce their HgA1C levels. An HgA1C level is the average blood glucose level of a person over three months.
Another study looked at the effect of a 1-week trial of IF on 15 men at risk of diabetes. These men only consumed food for nine hours during the day, and then fasted for 15 hours.  During their feeding times, they consumed their regular diets. Study results show that restricting eating time during the day can help improve blood glucose levels. In turn, this could help those at risk for type 2 diabetes to lower their risk of this chronic disease.
Other ways to control blood glucose levels
Besides changes in diet, there are other ways a person can control their blood glucose levels such as the following:
Exercise: Staying active most days of the week for at least 30 minutes can help you improve insulin sensitivity and control blood glucose. You don't have to exercise all 30 minutes at once. Just a few minutes of exercise throughout the day adds up to better blood glucose and overall health.
Medication: Be sure to follow the medication regimen recommended by your doctor to help control your blood glucose levels. Also, visit your doctor often to keep track of your blood glucose levels and tweak your dosage if needed.
Manage stress: Since stress can increase your blood glucose level, it's important to manage stress to control blood glucose levels. Working with a psychologist, learning to relaxation breathe, or taking yoga classes can help you manage stress.
Take a daily supplement: If your doctor is ok with it, then a daily supplement might help blood glucose control. A supplement such as Glucarex by VitaSciences contains ingredients like cinnamon and alpha lipoic acid can support weight loss as well as healthy metabolism and blood glucose levels.
-written by Staci Gulbin, MS, MEd, RD of LighttrackNutrition.com
References:
Cohut, M. (May 2, 2019) "To control blood sugar, set strict meal times." Medical News Today.
Furmli, S., Elmasry, R., Ramos, M. and Fung, J. (October 2018) "Therapeutic use of intermittent fasting for people with type 2 diabetes as an alternative to insulin." BMJ Case Rep., 2018: bcr2017221854.
Leonard, J. (last reviewed June 28, 2018 by Butler, RD, LD, N.) "Seven ways to do intermittent fasting." Medical News Today.
Mayo Clinic (May 6, 2017) "Diabetes management: How lifestyle, daily routine affect blood sugar."