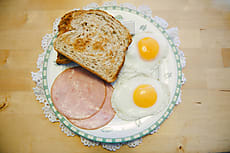 When you first wake up in the money, it may be easy to grab something quick like a donut, pastry, or a quick bowl of cereal. However, what you choose to eat for breakfast could very well set the tone for what you eat the rest of the day. In fact, research shows that if you reduce carbohydrate intake at breakfast, then you could help control your blood glucose levels. Let's learn a little more about this study, about blood glucose levels, as well as ways you can reduce carbs at your next morning meal.
Reducing carbs at breakfast to lower blood glucose levels
A recent study looked at the impact of a high-fat, low carbohydrate breakfast meal on blood glucose levels over 24 hours. Study results show that post-meal, or postprandial, hyperglycemia (high blood glucose levels) were reduced with this diet as compared to standard diet (55% calories from carbohydrate, 30% calories from fat, 15% calorie from protein). Also, this higher fat, lower carbohydrate breakfast helped keep blood glucose levels more stable throughout the day than the standard diet.
How to eat a low-carb breakfast meal
The following low to no-carb foods can be used to build a delicious low-carb breakfast meal.
Eggs
Bacon
Ham
Turkey
Chicken
Cottage cheese
Low carb vegetables like peppers, onions, broccoli, cauliflower, carrots, zucchini, kale, mushrooms, and spinach
Cheese
Plain Greek yogurt
Low carb fruits like strawberries, blueberries, or raspberries
Use this reference as a guide to other low-carb produce that can be added to your low carb meal.
Other ways to lower blood glucose levels
Besides making changes in your diet, read below for ways you can manage your blood glucose levels.
Stay active: Every step counts when it comes to your health. Therefore, be sure to stay active every day to help manage your blood glucose levels and keep your heart healthy. Staying active can help control blood glucose levels by making insulin more sensitive. Exercise will also help you to manage your weight and use the blood glucose you have for energy.
Manage stress: Stress can release hormones in the body that can raise blood glucose levels. Therefore, be sure to find ways to manage your stress levels. Walking, talking to a counselor, relaxation breathing, and yoga are some ways you can manage stress.
Drink plenty of water each day: The body is mostly made up of water, so its important for many processes in the body. When it comes to blood glucose, water can prevent dehydration and in turn help the body remove extra sugars from the body through your urine. Try to drink at least 8 cups of water or low to no calorie fluids per day. You may need more fluid each day depending on your height, weight, and activity level.
Check your blood glucose often:  If you have diabetes, then you should check your blood glucose levels often. This will help you track your progress and find areas of your diet or medication routine that may need to be tweaked. This will help you manage blood glucose levels better. Be sure to to visit your doctor at least once or twice a year to have labs checked and adjust your meds if needed.
Take a blood glucose control supplement: If you're already eating a healthy diet and exercising, then the next step in lowering your blood glucose levels would be to add a blood glucose-lowering supplement if needed. Glucarex by Vita Sciences is an example of a blood glucose support supplement that could help you. Glucarex contains ingredients like chromium, alpha-lipoic acid, and cinnamon to naturally support healthy weight loss, metabolism, and blood glucose levels.
-written by Staci Gulbin, MS, MEd, RD of LighttrackNutrition.com
References:
Chang, C.R., Francois, M.E., and Little, J.P. (April 2019) "Restricting carbohydrates at breakfast is sufficient to reduce 24-hour exposure to postprandial hyperglycemia and improve glycemic variability." The American Journal of Clinical Nutrition.
Fletcher, J. (last reviewed January 26, 2018 by Maria Prelipcean, M.D.) "How can you lower your blood sugar levels?" Medical News Today.
University of California, San Francisco (accessed April 17, 2019) "Diabetes Education Online: Controlling Blood Sugar."