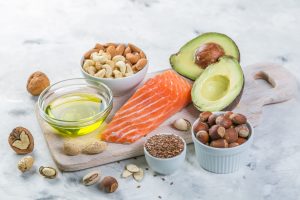 The Greek-style diet has long been touted as one that is full of heart healthy benefits. These benefits are thought to stem from the vast array of healthy fats from plant-based sources and limiting of saturated fats from red meats as well as the rich source of fruits and vegetables in this Mediterranean regimen. However, the health benefits may extend much further than initially realized. A recent study shows that the Mediterranean diet may help to lengthen life of older adults.
What is the Mediterranean diet?
The Mediterranean diet is a heart healthy eating regimen that has been linked with such benefits as low LDL cholesterol and improved overall heart health. These benefits are suggested to be from the emphasis of fruit and vegetable intake on this regimen as well as the following diet guidelines.
Consuming plenty of fiber-rich legumes, nuts, seeds, and whole grains.
Limiting salt intake, and instead using herbs and spices to flavor food.
Only eating red meat a few times a month, and instead loading up on lean proteins, fatty fish, and plant-based protein and fat sources.
Eating fish or poultry like chicken or turkey at least twice a week.
Focusing on whole grains versus refined grains and cutting out trans fats from the diet.
Drinking antioxidant-rich beverages like grape juice or wine, about five ounces a day (optional).
Staying active most days of the week.
Health benefits of the Greek-style diet 
The heart health benefits of the Greek-style diet are the most well-known. However research shows that health benefits of this eating regimen may extend beyond heart health. Other health benefits that come as a result of the Greek-style diet include:
improved digestive health
enhanced cognitive function
lower risk of certain cancers
improved blood glucose levels
Mediterranean diet and longer life
A recent meta-analysis study in the British Journal of Nutrition looked at the effects of a Mediterranean-style diet on length of life in older adults. This long term study observed data of over 5000 people aged 65 years or older. These individuals were observed for around 8 years or more on average. Study results show that those who followed a Mediterranean-style diet had prolonged survival as compared to those who did not follow such a diet. Researchers suggest that the Mediterranean-style eating regimen could be beneficial to older adults to help reduce chronic disease risk factors, and in turn potentially lengthen their life.
Other ways to improve health
Besides eating a diet full of health fats, there are also other lifestyle changes that could lengthen your life.
Get plenty of sleep: Sleep can impact blood pressure regulation and hormone regulation, to name a few. Therefore, be sure to get at least 7 to 9 hours of sleep each night.  If you have trouble sleeping, try such strategies as blackout curtains, limiting screen time at night, or natural supplements like Somnova. Somnova by Vita Sciences contains melatonin, which is a non-habit forming supplement that can help promote better sleep.
Drink enough water every day: Staying hydrated is an important part of any healthy lifestyle. Check your urine daily to make sure you are staying hydrated. If your urine is darker than lemonade, then it is time to drink more water. A good rule of thumb to follow is about half of your body weight (in lbs.) in ounces per day of fluid. For example, someone who is 200 pounds, should drink about 100 ounces, or 12.5 cups of fluid each day. Fluid can be any unsweetened beverage like water, low calorie drinks, flavored water, tea, or decaf coffee, to name a few.
Take heart healthy supplements to fill in the nutritional gaps: If you don't think you are getting enough healthy fats from your diet, then add in a supplement. One such supplement is fish oil, which has been shown to support healthy cholesterol levels. The fish oil from Vita Sciences in particular is a pure, burpless brand with 1000 milligrams of EPA and DHA shown to support brain, heart, and immune health.
Reduce stress: It will be important to keep your stress levels low for optimal health. This is because not only can stress affect blood pressure, but it can also lead to emotional eating and poor sleep, which can affect overall health. Therefore, talk to a friend, family member, or professional for stress management strategies. Also, engage in meditation, yoga, relaxation breathing, or other relaxing activities like walking to help manage stress.
-written by Staci Gulbin, MS, MEd, RD, LDN
References:
Bonaccio, M., Di Castelnuovo, A., Costanzo, S., Gialluisi, A., Persichillo, M., Cerletti, C., . . . Iacoviello, L. (n.d.). Mediterranean diet and mortality in the elderly: A prospective cohort study and a meta-analysis. British Journal of Nutrition, 1-14. doi:10.1017/S0007114518002179
Mayo Clinic (November 3, 2017) "Mediterranean diet: a heart-healthy eating plan." https://www.mayoclinic.org/healthy-lifestyle/nutrition-and-healthy-eating/in-depth/mediterranean-diet/art-20047801
National Sleep Foundation (accessed September 12, 2018) "How Much Sleep Do We Really Need?" https://sleepfoundation.org/how-sleep-works/how-much-sleep-do-we-really-need
Romagnolo, D. F., & Selmin, O. I. (2017). Mediterranean Diet and Prevention of Chronic Diseases. Nutrition Today, 52(5), 208–222. http://doi.org/10.1097/NT.0000000000000228