If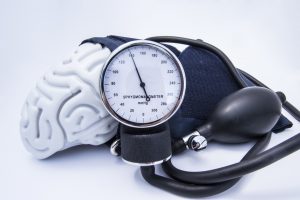 you have high blood pressure, heart disease may be the health concern most on your mind. However, high blood pressure can be a risk factor for more than just heart conditions.  A recent study has found that women in their 40's with high blood pressure have an increased risk of dementia.
What is high blood pressure?
A systolic blood pressure of 140 mm Hg or higher and a diastolic blood pressure of 90 mm Hg or higher defines a diagnosis of high blood pressure, or hypertension.  Systolic blood pressure is a measure of the pressure when the heart contracts, while diastolic blood pressure is a measure of the pressure in between heart beats.
Hypertension occurs when there is some sort of damage or blockage that causes a narrowing of the blood vessels.  This narrowing slows the flow of blood and oxygen to tissues and organs in the body. Over time, this delayed oxygen and blood flow can cause damage to cells in the body that can lead to disease. Therefore, high blood pressure can lead to increased risk of diabetes, kidney damage, stroke, and vision loss.
Hypertension and Dementia
A recent study in the journal Neurology looked at the medical records of about 5600 patients over 15 years to see who developed dementia.  Those women in their 40's with hypertension had up to a 73-percent risk of developing dementia.  Although, the same was not true of women in their 30's or of men in their 40's.  However, further studies must be done to determine the reason for these results.
Previous studies have found a link between high blood pressure and dementia, but it was not clear if hypertension before the age of 50 was a risk factor for the condition. However, it is clear that the brain is a metabolically active organ that requires oxygen to function properly. Without oxygen, brain cells starve and become damaged causing disease and dysfunction.  In order to get enough oxygen, blood flow to the brain must be healthy. Therefore, anything that prevents or delays blood flow, such as hypertension, could lead to cell damage in the brain as is seen in dementia.
Hypertension Prevention
To lower your risk of diseases such as dementia, take the following steps to prevent or control hypertension.
Eat a well-balanced diet of lean proteins, fiber-rich fruits and vegetables, whole grains, low-fat dairy, and healthy fats such as nuts, seeds, avocado, and plant-based oils.  Be sure to limit your intake of sugary and salty processed foods which can increase hypertension risk.
Stay active most days of the week.  Walking, jogging, biking, dancing, and swimming are some ways you can stay active to keep your heart healthy. Try to be active for 30 minutes a day for most days of the week to help manage your weight and blood pressure.
Limit alcohol intake to no more than one drink a day for women and no more than 2 drinks a day for men.  Over this limit, alcohol can raise blood pressure and can also make it difficult to manage a healthy weight.
Control weight since those who are overweight or obese have a higher risk for hypertension than those of a healthy weight.
Don't smoke since smoking can deprive your body of oxygen since it constricts blood vessels. In turn, smoking can increase risk of hypertension and related health issues.
Take all prescribed medications to help manage hypertension so that damage to the body's cells can be limited.
Add in heart-healthy vitamins and supplements to your routine such as Presura by Vita Sciences. Presura contains a combination of hawthorn berry, niacin, and garlic extract to help support healthy blood pressure levels. Be sure to contact your healthcare provider before starting any new supplement regimen. It is important to make sure that any new supplements will not interact with your current prescribed medicines.
-written by Staci Gulbin, MS, MEd, RD, LDN
Sources:
American Heart Association (October 2016) "Changes You Can Make to Manage Blood Pressure"
American Heart Association (October 2016) "Understanding Blood Pressure Readings"
Medline Plus (October 4, 2017) "High Blood Pressure in 40's a Dementia Risk for Women?"
National Institute on Aging (March 1, 2015) "High Blood Pressure"