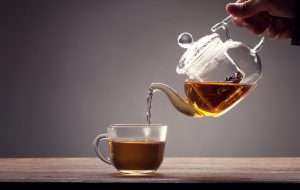 On a cold winter's day there is nothing better than a hot cup of tea to warm you up.  Depending upon the type of tea you consume, this warm beverage could provide you with a variety of different antioxidants to help benefit your health. In fact, a recent study has shown that a cup of hot tea every day may help reduce glaucoma risk.
What is Glaucoma?
Glaucoma is the name for a variety of different eye conditions that involve damage to the optic nerve. Usually caused by an extreme amount of pressure in the eye, glaucoma is the leading cause of blindness in the United States. The most common form of this condition may not present any symptoms until it is too late. Therefore, it is very important to get regular eye check-ups to reduce your risk of eye health issues.
About Tea
Tea is a low-calorie beverage that can have anti-inflammatory and antioxidant properties.  These benefits stem from the presence of the polyphenols epicatechin and catechin in tea. In particular, drinking green tea was shown to help lower LDL cholesterol, higher HDL cholesterol, and lower triglyceride levels.
Tea and Glaucoma Risk
A recent study looked at the results of a eye exam and nutrition survey of 1700 participants.  Those people that drank tea every day had about a 75-percent less chance of having glaucoma than those who did not.  It is not certain what about tea drinkers makes them at lower risk. However,  this lower risk was only seen in those that drank hot, caffeinated tea.  Consuming decaf tea, cold tea, or either decaf or caffeinated coffee did not show any benefit. It is thought that lower glaucoma risk may be due to the lifestyle factors in those that drank hot tea six times or more per week. More studies will need to be done to identify the direct link.
Other Ways to Lower Glaucoma Risk
Besides drinking hot tea, there are several other ways to lower your glaucoma risk.  The researchers suggest that prevention through regular eye exams is key, along with the following lifestyle behaviors.
Get your heart health under control. By getting your blood pressure and diabetes under control, you can help decrease your risk of glaucoma.
Use treatments as prescribed. Prescribed eye drops or other glaucoma medications can help reduce the risk of complications associated with the condition. In turn, treating such symptoms can prevent or delay the onset of vision problems associated with this condition.
Exercise regularly. Walking or engaging in some sort of moderate exercise each day could help reduce the eye pressure related to glaucoma.  Moderate exercise may include swimming, biking, aerobics, dancing, or anything that quickens your breathing without getting you out of breath.
Wear eye protection. Be sure to wear sunglasses or goggles in the sunlight or when  using any power tools or engaging in any high-speed racket sports. This is because when you reduce your risk of eye injuries, you also help reduce glaucoma risk.
Take eye-healthy supplements.  Ocutain by Vita Sciences contains a combination of eye-healthy compounds such as lutein and beta carotene, which promote healthy vision. Such supplements, along with a heart healthy diet may help lower your risk of eye conditions such as glaucoma.
-written by Staci Gulbin, MS, MEd, RD, LDN
Sources:
Cochran, N. (January 12, 2017) "The Health Benefits of Tea"
Harvard Health Publishing: Harvard Medical School (August 2014) "Tea: A Cup of Good Health?"
Mayo Clinic (September 15, 2015) "Glaucoma"
Mayo Clinic (May 19, 2017) "Exercise intensity: How to measure it"
Medline Plus (December 15, 2017) "Could a Hot Cup of Tea Preserve Your Vision?"