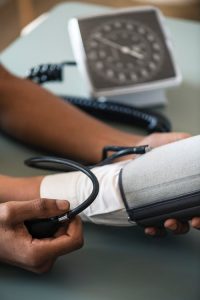 When you think of high blood pressure, or hypertension, your heart health may be the first thing that comes to mind. But what many may not realize is that blood pressure also relates to the health of your mind. It makes sense if you think about it. All the body's tissues and organs require oxygen from the blood that flows from the heart. If something is affecting blood flow, then this can affect the health of many parts of your body. Let's look a bit more at blood pressure and how controlling it can improve the health of your heart and mind.
About hypertension
Hypertension happens when the blood flow in your vessels has to use extra force to travel though the body. There are several different causes of blood pressure. Some of these causes include high sodium intake, obesity, thyroid problems, or sleep apnea, to name a few.
A person has hypertension if their blood pressure consistently reads at or above 140 mm Hg over 90 mmHg. The top number is the systolic blood pressure, or the pressure of the blood in the arteries during contraction. On the other hand, the bottom number is the pressure of the blood in the vessels at dilation, or in between contractions.
It's important to see your doctor on a regular basis so you can track your blood pressure. This is because untreated high blood pressure can lead to complications like heart attack, heart failure, or stroke, to name a few.
Blood pressure and brain health
By keeping your heart and blood vessels healthy, you ensure healthy blood flow all over the body, This includes healthy blood flow to the brain. According to the Centers for Disease Control, taking care of your heart can help reduce your risk of stroke and dementia.
A recent study looked at a group of older adults at risk for heart disease but had no history of stroke or diabetes. Researchers looked at whether intensive or standard treatment for hypertension could improve cognitive health outcomes.
Intensive blood pressure control would involve a goal of a systolic blood pressure of less than 120 mm Hg. On the other hand, standard treatment would merely try to lower the systolic blood pressure below 140 mm Hg.
Study results show that the intensive treatment helped reduce mild cognitive impairment risk by 20-percent. Because of this finding, researchers suggest that intensive blood pressure treatment could lower risk of dementia. However, more studies will need to be done to see if this theory holds true.
How can you improve your blood pressure?
When it comes to heart health, here are several steps you can take to help control your blood pressure and in turn help the health of your mind.
Eat a heart healthy diet: Cut back on sodium, fatty red meats, alcohol, and sugary processed foods for better heart health. Instead, swap out these foods for lean animal or plant-based proteins like chicken, fish, nuts, or seeds. Also, load up on antioxidant-rich vegetables and fruits that also provide gut- and heart-healthy fiber.
Move more: Every step counts when it comes to heart health. Try to walk, swim, bike, dance, or do whatever moves you to exercise. Try to move at least thirty minutes total a day most days of the week to help keep your weight within a healthy range and your heart strong.
Sleep enough: During sleep, your body takes care of a lot of internal business. One piece of business is regulating fluid and hormones in the body. If interrupted this can have a negative impact on blood pressure. This is why most adults should sleep at least seven to nine hours a night most nights for optimal health.
Quit smoking: Smoking can constrict blood vessels and in turn narrow them and increase risk of blood pressure. Therefore, if you smoke, be sure to visit smokefree.gov for resources on how you can quit today to help your heart and brain health.
Take a heart healthy supplement:  Along with these lifestyle changes, it also never hurts to add a heart healthy supplement to give your heart health the upper hand. One such supplement is Circova by Vita Sciences. Circova contains ingredients like L-arginine, niacin, and hawthorne that help to naturally improve blood pressure and blood flow.
-written by Staci Gulbin, MS, MEd, RD
References:
Centers for Disease Control and Prevention (March 26, 2018) "Brain Health Is Connected to Heart Health." https://www.cdc.gov/features/heart-brain-health/index.html
Mayo Clinic (January 9, 2019) "10 ways to control high blood pressure without medication."
National Heart, Lung, and Blood Institute (accessed February 18, 2019) "High Blood Pressure."
NIH Research Matters (February 12, 2019) "Intensive blood pressure control may lessen cognitive loss."