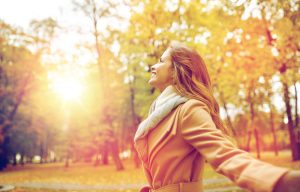 When most people start an exercise program, they may be trying to do one of a few things. Most people move more to lose weight, some exercise to gain muscle, and some just want to tone up. However, the benefit from exercise that most may not think of is improved mood. A recent study shows that moving more each day may have prevent depressive symptoms. Not to mention, that research also shows that preventing or improving such symptoms can help improve health outcomes in those with diabetes.
What is depression?
Depression is a mood disorder that can greatly impact daily life. It can make daily activities seem impossible by impacting the way you feel, think, sleep, eat, and work. There are various forms of depression such as persistent depressive disorder, which involves symptoms lasting two years or more.
On the other hand, there are forms of depression that occur as a result of certain environmental changes such as in climate like with seasonal affective disorder, or after pregnancy like with postpartum depression. Some people with depression may also experience other serious mood symptoms like with bipolar disorder or psychotic depression.
No matter what type of depression a person may have, they all share certain serious symptoms for more than two weeks at a time that may include:
persistent "empty" mood or sad feelings
irritability
hopelessness
loss of interest in hobbies or daily activities
decreased energy or fatigue
restlessness
moving or talking more slowly
difficulty concentrating
trouble sleeping or eating
digestive problems or headaches without a medical cause
thoughts of death or suicide
Not everyone with depression experiences every symptom. However, if you have a few of these symptoms and you feel that daily life has become hard to handle, then it may be time to reach out to a healthcare professional for help.
Antidepressant medications and psychotherapy, like talk therapy are typical primary treatments for depression. However, if these treatments alone are not helping all of your symptoms, then there are some other things you can try. Experts suggest asking for help from a trusted friend, family member, or counselor as well as taking steps to take part in your community for social support.
Another treatment option is to join a study through the National Institutes of Health where new treatments will be tested. If you need help now, then reach out to someone today for advice through one of the resources found on this website. Exercise can also be something you can do now to help improve your depressive symptoms.
Exercise and depression research 
The American Heart Association suggests that most adults exercise at least 150 minutes a week. This means that for most days of the week, you should move at least thirty minutes a day. This doesn't have to be all at once, but can be a few minutes at a time. And this exercise should be at a moderate pace. Therefore, if you walk briskly for a few minutes here and there for a total of thirty minutes a day, then you can keep your heart strong. Not only that, but you can also keep your mind healthy too.
A recent study shows that exercise may help improve depressive symptoms. This study looked at data from over 600000 adults. Study results show that there is a protective relationship between exercise and risk for major depressive disorder. And what makes this finding stronger is that this data was taken from actual measured movement, not self-reported exercise. Therefore, experts suggest that exercise could be an effective adjunct strategy to help treat and prevent depressive symptoms.
Exercise and diabetes research
If you exercise to help improve your depressive symptoms, you could also help improve your diabetes risk. Experts report that depressive symptoms correlate strongly with a risk of incident diabetes. A study of data from the Women's Health Initiative (WHI) looked at whether positive behavior could help lower risk of type 2 diabetes in postmenopausal women.
The study looked at data from over 100000 women over 14 years. Study results show that those who were the most optimistic had a 12-percent lower risk of developing diabetes versus those in the lowest quartile of optimism. Also, those who showed more hostile and negative behaviors, were at higher risk of developing type 2 diabetes. Therefore, prevention strategies to help target such negative mood and personality traits may help lower risk of type 2 diabetes in these persons.
Take home message
If you suffer from depression, then there are many steps you can take to help improve your quality of life. The first step is to ask for help.  I know this is not an easy ask, but there are many resources out there where people want to help you take back your life.
And if you have diabetes, it may be worth it to be screened for depression to see if such strategies listed above may help you not only feel better in your mind, but also help improve your diabetes symptoms.
Changes in diet such as consuming more antioxidant-rich foods and taking supplements such as Elevia by Vita Sciences may also help. Elevia contains GABA and 5-HTP to help calm your mind and boost serotonin levels. This could be another tool in your belt to help you improve your depressive symptoms and start feeling better inside and out.
-written by Staci Gulbin, MS, MEd, RD
References:
American Heart Association (last reviewed April 18, 2018) "American Heart Association Recommendations for Physical Activity in Adults and Kids."
Choi KW, Chen C, Stein MB, et al. (Published online January 23, 2019) "Assessment of Bidirectional Relationships Between Physical Activity and Depression Among Adults: A 2-Sample Mendelian Randomization Study." JAMA Psychiatry, doi:10.1001/jamapsychiatry.2018.4175
National Institute of Mental Health (February 2018) "Depression."
Sandoiu, A. (January 27, 2019) "Diabetes: How optimism may influence your risk." Medical News Today, https://www.medicalnewstoday.com/articles/324297.php