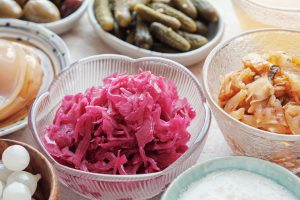 Probiotics have become the talk of the town, and for good reason. Every day more research shows that taking probiotics can reduce inflammation in the gut, and in turn, may help reduce risk of inflammatory conditions such as heart disease, eczema, and inflammatory bowel disease. Therefore, adding a probiotic to your daily routine may be the answer to help free your gut, and in turn your body, from inflammation.
What is inflammation?
Inflammation is a response to injury, infection, or foreign bodies in the body. This process is often linked with redness, swelling, and pain. In the body, however, can be a good thing since inflammation helps to get rid of any toxins and help the body heal.  However, too much of just about anything can be a bad thing.
Oxidative stress, along with inflammation, is often associated with chronic disease risk. When the body's cells encounter oxidative stress, cell damage may occur, and in turn, chronic disease risk may increase.  Oxidative stress occurs, by definition, when there is an imbalance in prooxidant stress and antioxidant defense.  This occurs when free radicals, or any species with one or more unpaired electrons, steal electrons from other cells to become paired. In doing this, a chain reaction of free radical formation is set off. This  in turn can lead to cell damage.
What are probiotics?
Probiotics are living organisms such as bacteria or fungi, that have health benefits.  You may see probiotics in your local grocery store or health food market. It can be confusing to know which strain(s) will be most beneficial for you.  The key will be to find a probiotic product that is diverse in the amount of strains that it contains, so that you can benefit from a wide variety of bacterium.
For example, one diverse probiotic product is Biovia 30 by Vita Sciences. This probiotic product contains 30 billion colony forming units of 10 important Lactobacillus and Bifidobacterium strains.
How can I benefit from probiotics?
Probiotics can help restore balance of bacterium in the gut. This can help reduce inflammation in the body and reduce chronic disease risk.  The benefits of probiotics range from lowering cholesterol to strengthening the immune system.  In addition, probiotics can help improve symptoms in those with digestive conditions such as inflammatory bowel disease. Furthermore, there is evidence that those with skin conditions such as atopic dermatitis and acne may benefit from probiotic treatment.
You can add probiotics in your diet by consuming more fermented food or by taking a probiotic supplement. You can add some probiotic-containing foods to your diet such as:
sauerkraut
kimchi
kefir
yogurt
miso
tempeh
It is also beneficial that if you consume probiotics in any form, that you also consume prebiotics, or foods to help feed the probiotics in your gut.  Examples of prebiotic foods include:
fruits such as bananas
vegetables such as asparagus, soybeans, garlic onion, leeks, and artichokes
whole-grain foods such as whole-wheat bread, oatmeal, and bran cereal
Flaxseeds
Therefore, free yourself from inflammation in your body today by adding some pre- and probiotics to your daily routine.
References:
Baek, J. and Lee, M-G. (2016) "Oxidative stress and antioxidant strategies in dermatology." Redox Report, 21(4): 164-169.
Biswas, S.K. (2016) "Does the Interdependence between Oxidative Stress and Inflammation Explain the Antioxidant Paradox?" Oxidative Medicine and Cellular Longevity, Volume 2016(Article ID 5698931): 9 pages.
Nagpal, R., et al. (2012) "Probiotics, their health benefits and applications for developing healthier foods: a review." FEMS Microbiology Letters, 334(2012): 1-15.
NIH News in Health (May 2017) "Keeping Your Gut in Check: Healthy Options to Stay on Tract."
Wolfram, MS, RDN, LDN, T. (February 27, 2018) "Prebiotics and Probiotics: Creating a Healthier You." Academy of Nutrition and Dietetics Online.