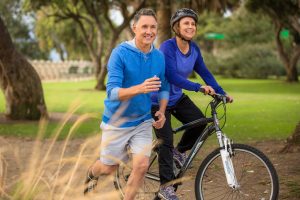 Whether you walk, run, swim, cycle, or dance, exercise is a great way to keep your heart in tip top shape.  Exercise is also recommended for weight loss, controlling blood glucose levels, and even for helping reduce stress by releasing endorphins.  Recent research has shown that exercise may also be good for reducing inflammation in the body, and in turn reducing your risk for many chronic diseases.
Inflammation and oxidative stress
Inflammation is the body's response to injury or infection that results in redness, swelling, and painful. It is part of the body's immune response to such foreign bodies or substances. Inflammation can lead to oxidative stress, which can damage cells and in turn increase risk of chronic disease states.
Exercise and Inflammation
A recent study in the Journal of Physiology looked at the impact of exercise on the health of obese individuals.  Inflammation has been linked to many obesity-related conditions such as diabetes and heart disease. Therefore, exercise therapy to reduce weight and improve heart health may reduce such inflammation.
A group of young, obese adults participated in a six-week exercise program that involved three 60-minute bicycling or treadmill-running sessions each week. Blood samples taken at the start and end of the study. These samples reveal that the exercise regimen produced a decline in stem cells that create the blood cells responsible for inflammation.  This study shows promise that exercise may help obese individuals to reduce risk of chronic disease as well as others with inflammatory disease status. However, further study of the effects of blood changes on energy consumption, fat storage, and other inflammatory conditions is warranted.
Other ways to decrease inflammation
Besides exercise, inflammation can be reduced in the body in various ways. Oxidative stress, which is linked to inflammation, can be reduced by diet changes and improvements in gut health as well. Here are some ways you can reduce inflammation through your daily intake.
Plant-based diets have shown to decrease inflammation. A 2016 study found that a plant-based diet can help reduce levels of the inflammatory marker C-reactive protein in the body.  Research suggests that plant-based foods such as fruits, vegetables, and nuts contain antioxidants that help reduce oxidative stress in the body.  Therefore, be sure to add in plant-based foods in your diet at each meal to help reduce inflammation in the body.
Stay as natural as possible in your diet. Try to consume mostly whole plant-based foods versus processed foods so you can get the full antioxidant benefit.  In addition, additives and preservatives in processed foods may increase oxidative stress in the body.
Quit smoking or don't start. Smoking of any kind can introduce chemicals into the body that can cause oxidative stress. Not to mention that smoking can increase blood pressure and heart disease risk by constricting blood vessels.
Reduce pollutant and other stress exposure. Staying out in the sun for too long without protective clothing or mineral-based sunscreen can increase oxidative damage to cells.  Also, exposure to pollutants such as car exhaust, industrial smoke, and other chemical-based substances can increase oxidative stress. Therefore, try to reduce your exposure to such things to decrease inflammation in the body.
Probiotics may help decrease inflammation. More and more research shows that taking probiotics daily can help reduce oxidative stress in the body. Different probiotic strains can have different impacts on health. However, many probiotic strains have proven to possess ant-inflammatory qualities. Inflammatory conditions like acne and eczema, inflammatory bowel disease, and high cholesterol can improve with probiotic use. An example of a probiotic with a diverse array of strains is Biovia 30 by Vita Sciences which contains 30 billion colony forming units (CFU) to help promote digestive health. Therefore, consider adding a probiotic to your daily routine to help improve your overall health inside and out.
-written by Staci Gulbin, MS, MEd, RD, LDN
Sources:
Biswas, S.K. (2016) "Does the Interdependence between Oxidative Stress and Inflammation Explain the Antioxidant Paradox?" Hindawi Publishing Corporation, Volume 2016, Article ID 5698931, 9pp.
Bjorklund, MD, G. and Chirumbolo, Ph.D., S. (January 2017) "Role of oxidative stress and antioxidants in daily nutrition and human health."
Eichelmann, F., Schwingshackl, L., Fedirko, V., and Aleksandrova, K. (November 2016) "Effect of plant-based diets on obesity-related inflammatory profiles: a systematic review and meta-analysis of intervention trials." Obesity Reviews, 17(11): 1067-1079.
Nagpal, R., et al. (2012) "Probiotics, their health benefits and applications for developing healthier foods: a review."
National Center for Complementary and Integrative Health (accessed June 26, 2018) "Probiotics: In Depth."
NIH News in Health (May 2017) "Keeping Your Gut in Health."
Preidt, R. (June 20, 2018) "Exercise May Ease Inflammation Tied to Obesity." HealthDay.