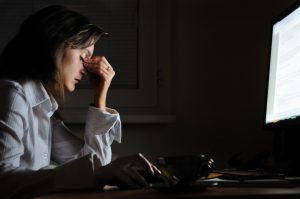 Night shifts, or working from evening to morning, can be rough on your body and mind.  Your meal patterns can become confused. Sleeping patterns can become thrown off course. And in turn, weight gain and sleeping issues can develop over time. A recent study has found that night shifts can cause digestive problems over time by throwing off the body's internal clock.
What is circadian rhythm?
Think of your circadian rhythm as a clock inside of your body telling you when to sleep, eat, and digest, among other things.  The internal clock in the body releases hormones at certain times to help you stay awake, provide energy, and help regulate processes such as digestion and blood pressure. Working night shift or traveling across time zones can disrupt this internal clock. This is because being awake when the body is programmed to sleep can confuse the body's natural rhythms. Previous studies have found that those who work night shift have an increased risk of chronic diseases such as obesity, heart disease, and diabetes.
Circadian rhythm and gut health
A recent study looked at the effects of night shift work on various health markers. One group of people had a normal day shift and nighttime sleep schedule. The second group worked night shift three days in a row and slept during the day.  Hormones such as melatonin and cortisol were also measured. Melatonin usually increases at night to help you sleep. On the other hand, cortisol is normally higher in the day to help with metabolism and blood glucose regulation, among other things.
Study results show that those who worked night shift had a shift in their brain's internal clock by two hours.  Although significant, even more so is that the digestive system was thrown off course by 12 hours. These results suggest that night shift work can cause digestive problems over time.  Therefore, researchers will continue to study ways to help minimize this impact of night shifts on gut health. They hope that further studies will help identify ways to tailor meal time to minimize night shift's impact on gut health.
How to help your gut health
In the mean time, there are several things you can do now to help improve your gut health, no matter what time of day you eat.
Eat smaller meals to help prevent heartburn or indigestion. Smaller meals will make it easier for your body to break down the nutrients from the food you eat.  Eating a large meal at one sitting can put a lot of pressure on your digestive system, especially if you have a job that involves a lot of sitting. Smaller meals can reduce bloating after meals and has been found to help reduce symptoms in those with a history of acid reflux or irritable bowel syndrome.
Drink plenty of water to help improve the flow of waste out of the body and to help improve nutrient absorption from the foods you eat.
Stay active to help stimulate digestion and prevent constipation, which in turn can cause symptoms such as gas, discomfort, and bloating.
Take probiotics to help restore or maintain a healthy balance of bacterium in the gut to aid digestion.  Probiotics that are diverse and potent such as Biovia 30X by Vita Sciences can help boost the immune system and promote gut health.  Those with conditions such as irritable bowel syndrome have especially found probiotics to be helpful in reducing symptoms. Consuming foods that contain probiotics such as yogurt, sauerkraut, kimchi, and kefir, to name a few, can also help improve gut health.
Eat plenty of fiber such as that found in fruits, vegetables, and other plant-based foods.  This is because fiber can help bulk the stool and slow down digestion to help improve nutrient absorption from foods. Fiber-rich foods can also act as prebiotics. Prebiotics are compounds from certain fruits and vegetables such as bananas, asparagus, soybean-based foods, and whole grains that feed probiotics. In other words, the prebiotics help promote the growth of healthy bacteria in the gut.
-written by Staci Gulbin, MS, MEd, RD, LDN
References:
Liverpool, L. (July 9, 2018) "Nightshifts disrupt rhythm between brain and gut, study shows." The Guardian Online
NIH News in Health (May 2017) "Keeping Your Gut in Check: Healthy Options to Stay on Tract."
NIH News in Health (April 2018) "Tick Tock: Your Body Clocks: Understanding Your Daily Rhythms."
Wolfram, MS, RDN, LDN, T. (February 27, 2018) "Prebiotics and Probiotics: Creating a Healthier You." Academy of Nutrition and Dietetics Online