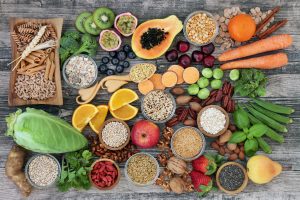 Eat your veggies, they say. Whether you are trying to lose weight, improve your blood pressure, or just simply trying to live well, you may be told to eat more fiber in your diet. Fiber is not only good for managing weight or keeping your heart healthy though. A recent study has found that more fiber in your diet may actually help improve the health of those with type 2 diabetes.
What is fiber?
Fiber is a type of carbohydrate found in certain foods that is not digested in the body.  Therefore, when consumed, it provides many health benefits such as:
making you feel fuller longer
slowing down digestion so more nutrients can be absorbed from the foods you eat
bulking your stool, in turn helping improve digestive health
helping to lower cholesterol levels in the blood
In addition, fiber intake can help control blood glucose levels. A healthy, balanced diet should include such fiber-rich foods as:
fruits and vegetables
high-fiber cereals made with bran or whole grains
whole grains such as oats, quinoa, or corn
high-fiber pastas such as bean, lentil-based, or whole wheat
brown or wild rice
nuts, nut butters, and seeds such as flax seed, sunflower seeds, and chia seeds
A study in the New England Journal of Medicine showed that people who consumed 50 grams of fiber each day were able to control their blood glucose levels much better than those who ate far less.  However, since most Americans only consume on average 15 to 18 grams of fiber each day, this task would be impossible. Therefore, most adults should consume between 20 and 35 grams of fiber each day for optimal health. If you consume between 2 cups of both fruits and vegetables each day, you can easily hit this daily goal.
Fiber and diabetes
Type 2 diabetes is the type of diabetes that develops when the pancreas makes too little insulin or the body cannot use insulin very well. In turn, people with type 2 diabetes have trouble controlling their blood glucose levels since insulin is a hormone in charge of using glucose for energy in the body.
Within the digestive system, certain bacteria are in charge of breaking down carbohydrates  in the body. These broken down carbohydrates produce short chain fatty acids that help reduce inflammation in the gut and control appetite. Recent study findings show that a shortage of these amino acids may increase risk of type 2 diabetes.
A recent study based in China looked at the effect of a high fiber diet on those with type 2 diabetes. One group of adults with type 2 diabetes were given standard dietary recommendations and patient education. The other group was given a high fiber diet. After 12 weeks, the group of patients on the high fiber diet had had greater reduction in their HgA1C, or three month average of blood glucose levels. In addition, their fasting blood glucose levels and weight dropped more than those not on the high fiber diet.
Other ways to help control your diabetes
In addition to consuming more fiber, there are several other ways you can help control your diabetes.
Know your numbers such as blood glucose levels, HgA1C, blood pressure, and blood cholesterol levels. Keeping track of these numbers will help you see where you stand in terms of heart health and controlling your diabetes. This way, if your numbers are reaching unhealthy levels, then you can take action before complications arise.
Stay active for at least 30 minutes a day of moderate activity most days of the week. Moderate activity includes walking, water aerobics, light dancing, and gardening, to name a few. A step counter or fitness tracking device can be helpful to keep track of your movements each day and keep you accountable.
Drink plenty of water to stay hydrated. Also, when you are increasing your fiber intake, it is important to drink plenty of water to avoid constipation.  Water is an important nutrient to help flush waste out of the body and keep the body functioning effectively.
Meet with your healthcare provider on a regular basis to help control and treat your diabetes and keep track of any risk factors. In addition, your healthcare provider can provide support if you have any questions or concerns in regards to your overall health.
Take supplements as needed such as vitamins for any deficiencies you may have as well as supplements such as Glucarex by Vita Sciences. Glucarex contains ingredients such as alpha lipoic acid and cinnamon that have been shown to support healthy blood glucose levels.
-written by Staci Gulbin, MS, MEd, RD, LDN
Sources:
Joslin Diabetes Center (accessed on March 12, 2018) "How Does Fiber Affect Blood Glucose Levels?" 
National Center for Health Statistics (March 2017) "NCHS Nutrition Data."
National Institute of Diabetes and Digestive and Kidney Diseases (January 2016) "4 Steps to Manage Your Diabetes for Life."
Rutgers University (March 8, 2018) "Fiber-fermenting bacteria improve health of type 2 diabetes patients."