Supplements such as 5-HTP, GABA, and green tea extract are safe, natural herbs that can help you relax, sleep better at night and lift your mood. Scientific research supports the use of supplements for anxiety, fatigue, and insomnia.
Natural herbs for better relaxation
For centuries, people have used natural herbs to promote good health. In recent years, we have developed the ability to analyze herbs our ancestors used for relaxation, energy, and mood. Through scientific testing, we can objectively identify the therapeutic properties of such healthy supplements.
Natural Herbs…Relax!
Supplements such as gamma-aminobutyric acid (GABA), theanine, tryptophan and 5-hydroxytryptophan (5-HTP) are reported to promote relaxation…based on cellular and animal studies as well as human clinical trials the literature supports a role for these preparations as useful alternatives in the management of the stress and anxiety of everyday life.
-Benjamin S. Weeks, Med Sci Monit 2009; 15(11): RA256-262
Gamma Aminobutyric Acid (GABA)
GABA is an amino acid produced in the brain which helps to regulate cognitive and neurological functioning. It's has a naturally calming effect on the nerves. Supplements with GABA are excellent for reducing tension, promoting restful sleep, and elevating the mood.
L-theanine- Camellia Sinensis Extract
L-theanine is a green tea leaf extract that is used for its multiple health benefits. Tea has rich sources of flavonoid antioxidants, as well as the amino acid, L-theanine. Placebo studies found it effective for enhancing mental focus, promoting relaxation and reducing depression, without any negative side effects.
5-HTP mood enhancer- Griffonia Simplicifolia extract
5- HTP (5-hydroxy-l-tryptophan) is helpful for mood and sleep difficulties. Through serotonin regulation, this beneficial ingredient reduces stress and lifts the mood. Decreased serotonin causes lasting depression, while increased serotonin helps to balance the mood. Griffonia Simplicifolia, a tropical shrubbery, contains rich amounts of 5-HTP. Use daily to maintain healthy levels of the serotonin neurotransmitter in the brain. Effective for depression, nervousness, and sleep problems.
Getting the most out of natural treatments
Many forms of natural herbs and vitamins are available for good health, including some that are taken orally in pill form or liquid, as well as in a spray. For maximum absorption, doctors recommend using a vitamin-enriched lotion. Science proves that nutrients enter the body most efficiently when applied directly to the skin.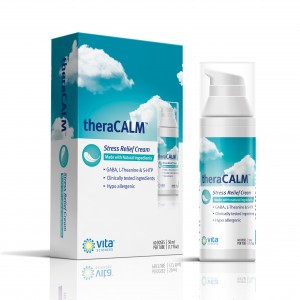 TheraCALM  stress relief cream helps you sleep better and control stress levels. Buy it here for $19.95
Sources:
Formulations of dietary supplements and herbal extracts for relaxation and anxiolytic action: Relarian
Anxiolytic-like effect of Griffonia simplicifolia Baill. seed extract in rats.
L-theanine, a natural constituent in tea, and its effect on mental state.