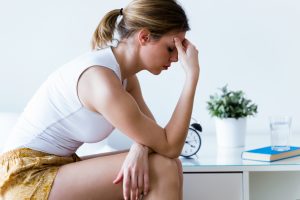 Depression on its own can be a very challenging condition to deal with. This diagnosis not only affects the mind, but can affect the body as well. It can make everyday tasks difficult to deal with such as sleeping, working, and even eating. Because of the effect of depression on eating behaviors, weight gain or loss can occur through appetite changes unrelated to diet.  Not only that, but because of the many lifestyle changes that come with a diabetes diagnosis, depression is seen two to three times more often in such patients than those without diabetes. A recent study looked at how diet and exercise factors can affect the relationship between depression and metabolic syndrome.
What is depression?
We all may feel depressed from time to time. However, a diagnosis of depression is a chronic display of such feelings that can affect daily life, relationships, and can cause both psychological and physical symptoms. If the following symptoms occur for two weeks or more, then you should see a doctor for possible diagnosis and treatment of depression.
Feeling sad or having a depressed mood
Loss of interest in activities once enjoyed
Changes in appetite
Weight loss or gain unrelated to dieting
Trouble sleeping or sleeping too much
Loss of energy or increased fatigue
Slowed movements and speech
Feeling worthless or guilty
Difficulty concentrating or making decisions
Thoughts of death or suicide
Conditions related to the thyroid, nutrient deficiencies, or tumors of the brain can mimic symptoms of depression. Therefore, such underlying causes should be ruled out by a qualified healthcare provider.
Metabolic syndrome and depression
Metabolic syndrome is the name for a group of risk factors that can increase a person's risk of chronic diseases like diabetes and stroke.
A waist circumference of more than 35 inches for women and 40 inches for men
A triglyceride level of 150 mg/dL or higher
An HDL cholesterol level of less than 50 mg/dL for women and less than 40 mg/dL for men
A blood pressure of 130/85 mmHg or higher
A fasting blood sugar level of 100 mg/dL or higher
Research shows that there is a relationship between those with depression and metabolic syndrome.  A recent study looked at this relationship to see what exactly is causing it. Researchers looked at data from over 64,000 adults. Study results show that those with depression are highly linked to a high fat, high sugar diet regimen and low levels of physical activity.
Researchers suggest that diet and exercise may link depression and metabolic syndrome. However, they also state that inflammation and genetic factors have a greater causal link between the two conditions. Inflammation can develop as a result of the stress on the brain due to depression that may cause an imbalance in gut microbiome. This link is a theory known as the gut-brain axis. This in turn, could cause inflammation in the body that could increase risk of chronic diseases like heat disease and diabetes.
How to lower risk of metabolic syndrome
Besides diet and exercise, you can use the tips below to help lower your risk of metabolic syndrome.
Add more fruit and vegetables to your diet: More fruits and vegetables means more antioxidants. And more antioxidants in your diet means more anti-inflammatory power. In turn, you can help reduce inflammation in your body by adding more colorful fiber sources to your plate at each meal.
Move more: Exercising at least 30 minutes a day for most days of the week can help you manage your weight. It can also help you manage stress and strengthen your heart. All of these factors can help reduce inflammation in your body and lower chronic disease risk.
Stop smoking or never start: Smoking can constrict blood vessels and in turn can increase heart disease risk. Therefore, if you already smoke, visit Smokefree.gov to quit. If you have never started smoking, then don't. Your body will thank you.
Take a daily supplement: If you are deficient in nutrients, then this could put you at risk for conditions like depression that have an inflammatory link.  Certain supplements can also help you gain better control over your blood glucose levels too. Glucarex by Vita Sciences is one such supplement that uses chromium, alpha lipoic acid, and cinnamon to help support weight loss, metabolism, and blood glucose levels.
-written by Staci Gulbin, MS, MEd, RD
References:
American Psychiatric Association (January 2017) "What is Depression?"  Physician Review By: Ranna Parekh, M.D., M.P.H.
Matta J, Hoertel N, Kesse-Guyot E, et al. (2019) Diet and physical activity in the association between depression and metabolic syndrome: Constances study. J Affect Disord., 244:25-32.
National Heart, Lung, and Blood Institute (accessed November 6, 2018) "Metabolic Syndrome."