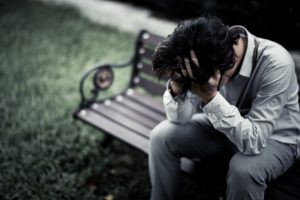 With ever-increasing demands in our work schedules and family obligations as well as financial stress and personal stresses it is no surprise that anxiety is on the rise. A recent report shows that from last year, more Americans say they are more anxious than ever.
What is anxiety?
Stress is a part of daily life. It is by definition the way the body reacts to any demands placed on it. However, anxiety is a whole different beast.  Anxiety is a response to the stress itself and involves tension and fear that can be so severe that it makes a person lose sleep, be afraid to enter social situations, and can affect their daily living.  Everyone encounters stress, but those with anxiety have difficulty managing it.
Having come from a family of anxious people with confirmed diagnoses, I can tell you that stress from sitting in traffic is much different than the feelings those with anxiety disorder experience. This disorder can take the form of panic attacks, obsessive-compulsive behaviors, or complete avoidance of social situations, among other things. It can disrupt a person's daily quality of life and can affect their relationships with others.
Anxiety on the Rise
Over 40 million people in America suffer from anxiety, but this number is getting higher. A recent report has found that between 2017 and 2018, about 57-percent of women and 38-percent of men between the ages of 18 and 49 years reported being more anxious.  In older Americans, 39-percent of women 50 years and older and 24-percent of men this age reported being more anxious than the year before. Overall, nearly 4 of 10 people surveyed reported being more anxious in 2018 than in 2017.
The leading causes of such feelings included paying the bills, health, and safety.  About 3 of 4 women and millennials as well as 4 of 5 Hispanic adults were most anxious about paying bills. Baby boomers had the highest jump in anxiety since last year. It is suggested that this rise is due to people in recent days being more vocal about their complaints, differences in the way we care for others, and perhaps less stress-tolerant behavior, especially of those younger people.
How to Reduce Anxiety
There are many effective treatments for anxiety, but not one treatment is effective for everyone. Here are several treatments that you can try if you need help managing this condition.
Psychotherapy is a treatment that is getting more and more coverage from insurance carriers everyday and can be the most effective at getting to the core of your disorder.  Talking about past and current traumas, family history, and the way you currently manage stress can take a huge weight off of your shoulders. Not only that, but the therapist can help you learn strategies to deal with your stresses in a more healthful manner.
Medication is often paired with psychotherapy since the medication tend to just treat imbalances in the brain, but does not deal with the root causes of certain stresses and behaviors.  Medication is not for everyone since certain anti-anxiety medications can have side effects.  Also, getting off of some medications can be very difficult. It is important to talk with your healthcare provider to see if medication treatment is appropriate for you.
Mindfulness can teach you how to live in the present moment so that you do not dwell too much on the past or the future. It can increase quality of life and teach people to worry less about everyday stresses.
Sleep Hygiene is important since lack of sleep can actually make stress more difficult to deal with. You should aim for 7 hours of sleep a night. If you have trouble falling asleep, ask your healthcare provider. You may need to visit a sleep center to make sure you do not have any underlying conditions that are affecting your sleep.
Improved Diet such as eating less sugar and drinking less caffeine can help reduce your anxious behavior.  These types of foods are stimulants that can make you feel more anxious if you consume them in excess. Also, if you consume these types of foods close to bedtime, it can make it harder to fall asleep.
Exercise can help you manage stress better. Not only will working out help you sleep better, but it can get the "feel good" hormones like serotonin flowing in your body. You should aim for some form of movement like walking most days of the week for at least 30 minutes a day.
Supplements like Passionflower tincture, kava, and valerian root can be effective for some anxiety symptoms.  Also, it is thought that some symptoms may be the result of a magnesium deficiency. Try a supplement like Sereneo from Vita Sciences. Sereneo contains magnesium, chamomile, and valerian root and can provide a serotonin boost and provide support for daily stress.
-written by Staci Gulbin, MS, MEd, RD, LDN
Sources:
Anxiety and Depression Association of America (accessed May 9, 2018) "Exercise for Stress and Anxiety."
Anxiety and Depression Association of America (accessed May 9, 2018) "Stress."
Anxiety and Depression Association of America (accessed May 9, 2018) "What is Anxiety?"
Brooks, M. (May 7, 2018) "High Anxiety in America: APA Poll Highlights Nationwide Worries."
Calm Clinic (accessed May 9, 2018) "Which Anti-Anxiety Supplements Work?"
Corliss, J. (January 8, 2014) "Mindfulness meditation may ease anxiety, mental stress." Harvard Health Publications
Jovanovic, Ph.D., T., et al. (accessed May 9, 2018) "Anxiety- What is Anxiety?"