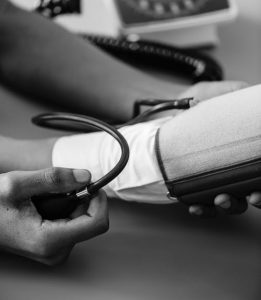 The National, Heart, Lung, and Blood Institute has named May High Blood Pressure Education Month. And since heart disease is one of the leading killers of adults in the United States, it's important that everyone learn how to care for their heart. Read below for information on blood pressure, how to reduce your risk for hypertension and heart disease, and how some supplements may help your heart.
All about blood pressure
Blood pressure is the measure of blood flow through your vessels. When you visit the doctor, your blood pressure reading may involve two numbers. The top number is called the systolic pressure. This number measures the pressure of blood against the artery walls in the body when the heart beats. Meanwhile, the bottom number is the diastolic pressure. This number measures the pressure of blood in the body between heart beats.
According to the American Heart Association, a normal blood pressure reading is less than 120 mmHg over 80 mmHg. Blood pressure is considered elevated if it is higher than 120 mmHg over 80 mmHg.  If you have a consistent blood pressure of 140 mmHg over 90 mmHg, then your doctor may diagnose you with high blood pressure, or hypertension.
Lower your heart health risk
It's important to lower your blood pressure to lower your heart health risk. This is because having hypertension can increase your risk of having a heart attack or stroke. If you have hypertension, your doctor will likely give you medicine(s) to help lower it. However, it's also important to make the following lifestyle changes to help lower your blood pressure and improve your heart health.
Eating a heart healthy diet: Consuming plenty of fiber and antioxidant rich fruits and vegetables in your diet can help your heart. This is because antioxidants can help reduce inflammation in the body. And since heart disease is an inflammatory disease, you can lower heart disease risk by eating such anti-inflammatory foods. Be sure to balance your plate with some lean protein from chicken, fish, legumes, or low-fat dairy products as well.
Exercise: Moving more can not only help to manage your weight, but can lower and control your blood pressure.  You don't need a boot camp workout each day to stay healthy. Just move as much as possible for a total of at least 30 minutes a day to help manage weight and keep your heart strong.
Manage your weight: Experts suggest that losing just 3 to 5-percent of your body weight can help lower your blood pressure readings.
Lower stress:  Learn to manage stress better to help control your blood pressure and improve overall quality of life. You can do this by talking to a trusted counselor or loved one, doing yoga or meditation, exercising, or by relaxation breathing, to name a few ways.
Quit smoking: Smoking can constrict your blood vessels and in turn increase blood pressure. Therefore, if you don't smoke, then don't start. If you do smoke, try to quit by contacting your healthcare provider for help or using resources from Smokefree.gov.
Take care of your teeth: You may wonder what brushing your teeth has to do with heart health. However, experts say that those who have gum disease often have the same risk factors for heart disease. This is because bacteria from the gums in those with gum disease can seep into the blood stream and cause inflammation of the body. This can lead to inflammation in the blood vessels and increase risk of heart disease. Therefore, be sure to visit your dental care provider every six months and be sure to brush and floss daily.
Sleep enough: Research shows that those who sleep less than six hours a night are more likely to have a heart attack and stroke than those who slept more. Therefore, try to set a bedtime schedule, avoid screen time about an hour before bedtime, and avoid eating an hour or two before bed. If you still have trouble sleeping, visit your healthcare provider for tips or sleep treatments that may help.
Heart healthy supplements
Besides these heart health tips, it may be helpful to add a supplement to your routine to help your heart. Vita Sciences carries a wide array of heart health supplements that could help. Alestra is one supplement by Vita Sciences that contains niacin, plant sterols, and garlic to help support healthy cholesterol levels. Another supplement by Vita Sciences for heart health is Circova. Circova contains L-arginine, niacin, and hawthorne to help improve blood flow and blood pressure. Finally, Presura by Vita Sciences contains hawthorn berry, niacin, and garlic extract to help support a healthier heart and blood pressure.
-written by Staci Gulbin, MS, MEd, RD
References:
American Heart Association (last reviewed November 30, 2017) "Understanding Blood Pressure Readings."
Cleveland Clinic (February 5, 2019) "5 Things to Do Every Day to Keep Your Heart Healthy." health essentials
National Heart, Lung, and Blood Institute (accessed May 18, 2019) "High Blood Pressure."
Office of Disease Prevention and Health Promotion (last updated November 30, 2018) "Keep Your Heart Healthy." healthfinder.gov