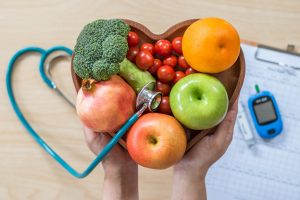 Heart disease is the leading cause of death for men and women in the United States. It accounts for one in four deaths each year. However, yo can prevent heart disease by changing some lifestyle factors to lower your risk. Risk factors of heart disease include poor diet, physical inactivity, being overweight or obese, being a smoker, and having diabetes. Fortunately, by working to change a few things in your daily routine, you can lower your risk of heart disease. Here are the top five things you can do today to lower your risk of heart disease.
Stop smoking or don't start. Smoking can constrict your blood vessels and make it hard for oxygen-rich blood to get to your heart. In turn, this can raise your blood pressure and increase your risk of a heart attack or stroke. According to the Centers for Disease Control, the percentage of smokers in the United States is at its lowest. However, there are still about 14-percent of Americans, or about 30 million people, who are still smoking. More and more young people are vaping instead of smoking, but experts worry that this is just another way for people to get addicted to nicotine. Therefore, no matter if its a cigarette, e-cigarette, or vaping device, stop smoking for your heart health. Contact Smokefree.gov to speak to an expert to help provide advice and resources to quit.
Eat a more balanced diet. I'm sure you have been told time and time again to eat more fruits and vegetables. However, the fiber-rich quality and antioxidants in such foods can help reduce oxidative stress in the body, which can lower risk of chronic disease like heart disease and diabetes. Therefore, include fruits and vegetables with every meal, in a variety of colors to provide you with a diverse array of nutrients. Also, balance out your veggies with lean proteins like chicken, fish, nuts, seeds, and/or low-fat dairy products.  Stick to mostly whole, minimally processed foods to avoid unnecessary salt, sugar, and preservatives.
Be more active. Try to move more each day to keep your heart strong. Walking, gardening, swimming, biking, or aerobics are some examples of ways you can incorporate some movement in your day. Try to get at least 30 minutes of activity at least 5 days a week. You can split this exercise into small segments of 5 and 10 minutes throughout the day if you need to for any reason.
Manage stress. Stress can lead to poor sleep, high blood pressure, and lack of motivation to eat healthy or exercise. Therefore, stress can have a domino effect on your entire health status if not managed properly. If you feel you are unable to manage your stress, try talking with someone. A counselor or therapist can help you figure out strategies to manage your stress. You can also try yoga, meditation, relaxation breathing, and/or acupuncture to help you manage your stress and in turn lower your heart disease risk.
Visit your healthcare provider regularly. Whether you have a history or family history of heart disease or not, you should visit your doctor regularly. You should have labs done at least once a year to check your cholesterol, blood pressure, etc. This is because life can change a lot in a year, and you can find yourself stuck in unhealthy lifestyle habits without even noticing unless an abnormal or high lab finding alerts you to it. Therefore, visit your doctor regularly, and even more often if you do have a history of heart disease, diabetes, or other chronic disease.
Take your health journey one step at a time. In addition to the steps listed, you can also try adding supplements to your routine if you feel there are any nutrient gaps in your diet.  Try a heart healthy supplement like Presura or a multivitamin like Zestia by Vita Sciences. Changing your lifestyle may not be easy. However, the improvements in your quality of life you will be rewarded with will be worth it.
-written by Staci Gulbin, MS, MEd, RD, LDN
Sources:
Associated Press (June 19, 2018) "Smoking Hits New Low Among U.S. Adults." 
American Heart Association (updated May 17, 2018) "The American Heart Association's Diet and Lifestyle Recommendations." 
Centers for Disease Control (November 28, 2017) "Heart Disease Facts."