Probiotics, or gut-loving bacteria, started to blossom back in the late 1800's to early 1900's as part of a healthy lifestyle.  It was during this time that Scientist Elie Metchnikoff proposed that consumption of yogurt with Lactobacillus helped decrease the amount of toxin-producing bacteria in the gut and increased life years in hosts.  The advent of probiotics has improved gut health for many.
About Probiotics
You may have heard about fermented foods, probiotics, and how good they are for you. However, do you really know what they are, and why they are so healthy?  The conversion of carbohydrates in the foods to alcohol or organic acids produces fermented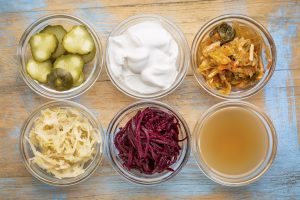 foods. This is done by using microorganisms such as yeast or bacteria under the absence of free oxygen.  As a result, the fermentation process can lead to increased concentration of vitamins and  nutrients in the final product. In addition, other benefits of fermented foods include enhanced flavor and increased digestibility. Finally, it is important to note that fermented foods are only probiotics if the bacteria culture survives long enough to provide benefits to the GI tract.  
Probiotic Foods
These are some fermented foods that are considered probiotics.
Yogurt, which is milk fermented with bacteria like Lactobacillus acidophilus. 
Kimchi, or spicy pickled cabbage, which is a popular dish in Korean culture.
Sauerkraut, which is a pickled cabbage commonly eaten in German culture.
Cheeses like Gouda, Cheddar, Swiss, and Parmesan. Not all cheeses have probiotic qualities, but in these particular cheeses the bacteria survives long enough to benefit the GI tract.  Furthermore, during digestion  beneficial bacteria is protected by the fat in cheese.
Probiotic Drinks
There are also some fermented drinks that provide probiotic benefits.
Cow's milk fermented with bacteria creates the sour yogurt-like drink called kefir.
Live cultures added to milk creates buttermilk. However, cooked buttermilk can deactivate these gut-beneficial cultures.
Sweet tea fermented with yeast and bacteria creates Kombucha.
Probiotic Supplements
With so many different probiotics on the market containing so many different bacterial cultures in so many different amounts, it can be difficult to know which will provide the most benefit.  However, Vitasciences makes it easy for you when it comes to choosing the proper probiotic.  BioVia30 contains a diversity of bacterial strains containing Lactobacillus and Bifidobacterium that helps to increase the good bacteria in your gut. Therefore, choose Vitasciences when shopping for your supplement needs.
-by Staci Gulbin, MS, MEd, RD, LDN
Sources:
Battcock, M. and S. Azam-Ali (1998) "Fermented Frutis and Vegetables: A Global Perspective." Food and Agriculture Organization of the United Nations. http://www.fao.org/docrep/x0560e/x0560e00.htm#con
Cruz, A., et al. (2009 Aug) "Probiotic cheese: Health benefits, technological and stability aspects" Trends in Food Science & Technology, 20(8):344-354.
Ganesan, B. et al. (2014) "Probiotic Bacteria Survive in Cheddar Cheese and modify  populations of other Lactic Acid Bacteria." Journal of Applied Microbiology, 116(6): 1642-56.