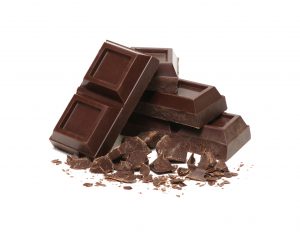 Could it be?  Could the delicious sweetness of chocolate actually be good for you? The answer is yes, but in moderation.  Chock full of antioxidants, this delicious treat may be able to help you combat heart disease.  A recent study has shown that moderate consumption of chocolate can reduce risk of heart disease.
Where does chocolate come from?
Chocolate has been enjoyed for thousands of years as far back as the ancient Mayan and Aztec civilizations. They revered this delicious treat as the "food of the gods" and Central American Mayan Indians drank a spicy drink made from roasted cacao beans. Chocolate was enjoyed exclusively in this liquid form until Victorian times when it was devised as a solid food treat.
The basic form of solid chocolate is made from cocoa, cocoa butter from the cocoa bean, and sometimes up to 5-percent vegetable fat. More processed and lesser quality products will usually contain more fat and sugar and less cacao.
Chocolate and heart health
A recent meta-analysis study looked at 23 studies with over 400,000 adults, with 35,000 cases of heart disease.  Study results show that eating chocolate in moderation may actually reduce heart disease risk. When talking about moderate consumption of chocolate, this study defines it as 100 grams of chocolate per week. This is equal to about 2 standard chocolate bars.  When chocolate consumption exceeded 100 grams per week, chronic disease risk such as stroke risk and heart disease risk started to increase.
When choosing to consume chocolate as part of a heart healthy diet, be sure to look at the ingredients label.  Try to choose chocolate foods that are lower in sugar and higher in cacao. This is because added fat and sugar can make chocolate higher in calories with no real added nutrient benefit.
A higher cacao content can increase the concentration of antioxidants in chocolate. Cacao beans contains antioxidants known as flavonoids that are also found in various fruits and vegetables. These antioxidants can help improve blood pressure as well as improve blood flow to the heart. This in turn can help reduce risk of heart disease and related chronic diseases. Therefore, lean towards higher cacao percentage (around 70-percent or higher) and lower sugar content for the most health benefit.
Other heart healthy tips
Besides eating chocolate for heart health reduction, which is perhaps the most delicious medicine ever, there are other steps you can take to reduce your risk.
Eat plenty of colorful fruits and vegetables every day. This is because fruits and vegetables contain a slew of different antioxidants that can lower oxidative stress in the body's cells. when you reduce the oxidative stress in the body, then you lower the risk of cell damage. When less cells are damaged, you can lower your chronic disease risk. Therefore, you should try to get at least 2 cups each of fruits and vegetables each day (or more!) for optimal health benefit.  Also, add in more fruits and vegetables for in-between meal snacks instead of sweets to help increase your total fiber and nutrient intake daily.
Stay active every day. This doesn't mean you have to train for a marathon or attend boot camp classes. Just try to get your muscles moving every day by taking walks, going outside and gardening, or visiting your local community center for aerobic or dance classes each week.  A healthy level of activity would be to get at least 30 minutes each day of moderate activity for at least 5 days a week. You can do this exercise in shorter segments. Five minutes here and ten minutes there all counts towards this 30 minutes. And moderate activity is any exercise that increases your rate of breathing a bit and where you can carry a conversation, but can't sing.
Take a heart healthy supplement each day. Sometimes the food you eat does not provide all the nutrients you need to stay your healthiest. In some cases, you may have vitamin deficiencies such as vitamin D or B12 deficiency that could affect your overall health status and well-being. That is why a multivitamin may be the right choice for you to help fill in the nutrition gaps. An example of a great multivitamin is Zestia by Vita Sciences. Zestia provides a comprehensive formula of 45 fruits and vegetables, a daily dose of a variety of essential vitamins and nutrients, as well as probiotics.
-written by Staci Gulbin, MS, MEd, RD, LDN
References:
Cadbury (accessed August 15, 2018) "What is chocolate?"
Ren, Y., et al (2018) "Moderate consumption of chocolate may reduce CVD risk."