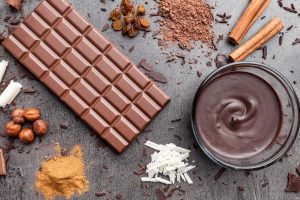 Yet another reason to eat chocolate, as if you needed one. Besides tasting delicious, chocolate has many health benefits. Recent studies show that eating a bit of dark chocolate each day may help to improve vision, memory, and lower stress.
About Chocolate
Chocolate, derived from the Theobroma cacao tree, has been used as a medicinal food for thousands of years.  It can stimulate the nervous system as well as improve digestion and elimination. This is because there are healing properties of chocolate in its rich concentration of antioxidants. The antioxidants in dark chocolate, such as the cocoa polyphenols, provide anti-inflammatory and heart health effects. Therefore, research shows that chocolate, in moderation, can improve health.
Chocolate Research
The Kuna Indians of Panama have been drinking chocolate for many years, around 30 ounces a day.  Likely due to this, they have some of the lowest rates of hypertension, or high blood pressure in the world, at 2.2-percent. A study at Harvard Medical School found that those people who drank two cups of hot chocolate a day may have improved blood flow to the brain. This may help improve brain function, such as memory.
A small study of 30 people looked at the health effects of dark versus milk chocolate. The study results show that those who ate dark chocolate versus milk chocolate had improved vision. They had small improvements in visual sharpness and large letter contrast two hours after eating the chocolate.  Researchers suggest these results may be due to improved blood flow to the retina or the brain's cerebral cortex, or visual pathways. However, more studies should be done to confirm chocolate's visual health potential.
More recent studies looked at the effects of 70-percent cacao dark chocolate on health.  These study results show that gamma frequencies were stimulated after 30 minutes and two hours. Since gamma waves are in charge of learning and memory function, chocolate may help brain health. However, more studies need to be done to confirm the cacao's potential brain health benefits.
Besides chocolate, a healthy balanced diet rich in antioxidant fruits and vegetables can help improve health. To further enhance these health effects, you can also take supplements. Examples of a supplement that may improve blood flow include Circova by Vita Sciences.  Circova contains L-arginine, niacin, and hawthorne that support improved blood flow and blood pressure. Be sure to contact your healthcare provider before you start any new supplement regimen.
-written by Staci Gulbin, MS, MEd, RD, LDN
Sources:
Cone, A. (April 25, 2018) "Studies: Dark chocolate can lower stress and inflammation, improve memory." UPI
Katz, D. L., Doughty, K., & Ali, A. (2011). Cocoa and Chocolate in Human Health and Disease. Antioxidants & Redox Signaling, 15(10), 2779–2811.
Mental Health Daily (accessed May 1, 2018) "5 Types of Brain Waves: Gamma, Beta, Alpha, Theta, Delta."
Mundell, E.J. (April 26, 2018) "A Bit of Dark Chocolate Might Sweeten Your Vision." HealthDay
Nordqvist, J. (February 12, 2018) "Health benefits and risks of chocolate." Medical News Today