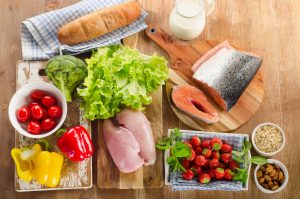 Like millions of other people, you may be hoping to lose some weight in this new year. However, the confusing part may be what eating plan, or shall I say "diet," should you choose to follow?  There is so much information in the media today making all sorts of weight loss claims.  They may all seem promising, but not all may provide you the nutrients you need to succeed long-term.  However, a recent report found that the DASH diet may be the answer to get you to your weight loss goal.
What is the DASH Diet?
The DASH, or Dietary Approaches to Stop Hypertension diet regimen, is a eating regimen promoted by the National Institutes of Health (NIH). It involves a flexible and balanced diet that focuses on using whole foods to meet daily and weekly nutritional goals. Basic tenets of the DASH diet include:
Eating plenty of fiber-rich vegetables, fruits, and whole grains
Consuming adequate protein daily from minimally processed sources such as fat-free or low-fat dairy products, fish, poultry, beans, nuts, and vegetable oils
Limiting foods high in saturated fat, such as fatty meats, full-fat dairy products, and certain oils such as coconut, palm kernel, and palm oils
Reducing consumption of sugar-sweetened beverages and sweets
Calorie and activity goals recommended will be a little different for each individual based upon your energy needs. Energy needs can be calculated using your BMR, or basal metabolic rate, multiplied by an activity factor.  A good BMR calculator is provided online by MyFitnessPal. To calculate your activity factor, multiply your BMR by the following activity factor based on your activity level. Exercises considered moderate versus active can be found in a variety of sources such as the American Heart Association website.
1.0 if you are sedentary, or do little to no activity
1.1-1.2 if you engage in light activity 1-3 times a week
1.2-1.3 if you are active, or engage in moderate exercise for 150 minutes a week or vigorous activity 75 minutes a week
1.4-1.5 if you are very active, or engage in moderate exercise  closer to 300 minutes per week , and vigorous activity closer to 150 minutes per week
For example, of your BMR is 1500 and you work out for 30 minutes a day, 3 days a week, then you would multiply 1500 by 1.2-1.3. Therefore, you would need to consume about 1800 to 1950 calories each day to maintain your current weight. As an estimate, subtract 500 calories for every pound you wish to lose per week.
Based on the example provided, if you wanted to lose one pound per week, then you would need to consume between 1300 to 1450 calories each day.  Be sure though, that within those calories that you are eating enough protein and fiber daily for optimal health.  Such specific nutrient goals can be found on the NIH website. You can visit your healthcare provider such as your doctor or dietitian for more specific macronutrient goals that are appropriate for you.
Diet Research
Studies such as the DASH-Sodium and PREMIER trials looked at the effects of the DASH diet on blood pressure. Both of these studies found decreases in blood pressure with either a low sodium diet or established treatment plan that included nutrition counseling, respectively. However, those who followed a DASH diet in addition to these factors had even greater reductions in blood pressure.
A recent study of 38 different diets by the U.S. News and World Report ranked the DASH diet the top diet for the eighth year in a row. The Mediterranean diet, which includes plenty of heart-healthy fruits and vegetables as well as healthy fats in the diet, was ranked second. Diets were scored according to:
How easy is the diet to follow
the nutritional quality of the diet
the safety of the diet long-term
the effectiveness of the diet for weight loss
the protective quality of the diet against diabetes and heart disease
The DASH diet was found to be rich in potassium, calcium, magnesium, protein, and fiber. Also, this plan was found to adapt to any healthy lifestyle without deprivation or restriction of important nutrients.
Ways to Make Your New Year's Goal Become a Reality
Finding a diet that you want to follow is one thing, but sticking to it is a whole other ballgame. Therefore, use the following tips to help you make your new year's health goal a reality.
Make it a family affair: If you have others in your household that eat with you at meal time, include them in your healthy eating efforts.  This does not mean that everyone has to go on a diet with you. However, you can help instill healthy habits at meal time to benefit everyone. For example, you can include more vegetables at meals, limit the sugary and salty foods purchased, and reduce meals eaten out.
Get a healthy "buddy" for accountability: Since you are likely to have a co-worker, neighbor, or friend that also vows to be healthier in the new year, designate each other as your "buddy." Basically, this means that you can help each other be accountable for your food choices and exercise.  You can do this by:

taking walks together during the week
attending exercise classes together
batch cooking or prepping healthy meals together on the weekend
In regards to exercise, studies have shown that those who have an exercise partner can have about twice the overall increased intensity and duration of exercise than those who work out alone.
Track your eating and exercise regularly: Food tracking can get cumbersome over time. However it can be really useful in the early stages of a healthy eating regimen to make sure you are meeting your nutrient needs.  Once you feel comfortable with your eating plan you can get away with tracking less frequently. However, it is useful to track every few weeks for the long term to make sure you are eating enough of important nutrients like protein and fiber. Some great examples of tracker apps include MyFitnessPal, LoseIt!, and MyPlate.
Don't get caught up in the numbers:  Weighing yourself everyday or tracking every macro can get overwhelming. Such excessive tracking can cause you to lose sight of important non-scale goals. Focus more on losing weight to feel more energy, feeling less pain in your joints, or being able to be active in ways you have not been able to  because of your current health status. This is not to say that tracking such numbers is not important. However, these numbers are just one small part of the healthy lifestyle equation.
Add in vitamins and supplements to fill in any nutrition gaps: A balanced diet ideally should give you all of the vitamins and nutrients you need daily. However, no regimen is perfect. There may be days where you do not consume enough of certain vitamins or minerals due to sickness, travel, or other reasons. Therefore, it is important to have a multivitamin in your regimen to help fill in any nutrient gaps.  An example is Zestia by Vita Sciences, which contains Super Food compounds, probiotics, and 100% or more of 19 vitamins and minerals.
Take it one step at a time: A long-term goal is great, but can be daunting to accomplish. For example, saying you want to lose 50lbs this year may seem like an impossible task. However, if you break your long-term goal into shorter pieces then it becomes more practical. In this case, setting a goal of one pound each week seems more possible and allows you to celebrate each small progression towards your ultimate goal. Therefore, take your new year's health goals one day at a time.  Each small success should be celebrated. For example, when you reach eight cups of water consumed each day or reach 5000 steps a day, you should be proud and treat yourself to a non-food reward. Examples of such rewards include a movie night at home, a relaxing bubble bath, or a massage. Before you know it, your new year's goal will be accomplished and you can start off the next year with confidence and better health.
-written by Staci Gulbin, MS, MEd, RD, LDN
Sources:
American Heart Association (March 2014) "Moderate to Vigorous – What is your level of intensity?"
American Heart Association (February 2014) "American Heart Association Recommendations for Physical Activity in Adults."
MedlinePlus (January 3, 2018) "What's Your Best Diet for 2018? Experts Rate Them."
MedlinePlus (January 1, 2018) "For a Healthier New Year, Try Making It a Family Affair."
MedlinePlus (January 4, 2018) "Need Motivation to Exercise? Try the Buddy System."
National Heart, Lung, and Blood Institute (accessed January 7, 2018) "DASH Eating Plan."
National Institutes of Health (January 3, 2018) "DASH ranked Best Diet Overall for eighth year in a row by U.S. News and World Report."
National Institutes of Health: Office of Dietary Supplements (accessed January 8, 2018) "Nutrient Recommendations: Dietary Reference Intakes (DRIs)."