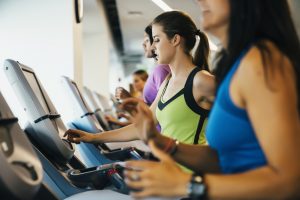 Every new year, many of us make resolutions to be healthier. Whether it be weight loss, exercising more, eating healthier, or managing stress better, such resolutions usually start off strong. However, by early spring, such goals usually lose steam and get pushed off until the next new year. That is why it is important to plan ahead before making any goals so you can make sure they are realistic and backed up with a lasting motivating factor. With such planning, you can make your new year's goals come true this year and maintain such healthy habits for the long-term.
What is a SMART goal?
SMART goals provide a formula for the greatest success in goal-setting and achieving. SMART stands for:
Specific: Being specific requires you to be clear about the goal you want to set. For example, "I want to exercise 30 minutes a day for at least 3 days a week," or "I want to lose 1 pound a week for the next 12 weeks." Being specific is more helpful than just saying "I want to lose weight" or "I want to eat healthier." Such general statements do not provide any concise marker to work towards, therefore they allow for a greater likelihood of non-compliance.
Measurable: The marker that a specific goal contains allows your progress to be measured. When you can measure how many days you have been able to exercise each week, or how many cups of water you drink each day, you can have a better idea of what areas of your healthy regimen are doing well, and which need more work. Tracking through an app or food journal can help with keeping track of such progress.
Attainable: Perhaps one of the most important parts of a goal is to make sure it is attainable. For example, if you currently consider yourself a couch potato, it would be a stretch to make a goal to run a marathon by the springtime.  A more attainable goal would be "I will train for a summertime 5K race."
Relevant: Another important part of your goal is that it must be relevant to your life. You should never set a goal that someone else may have for you. This type of goal-setting is setting you up for disappointment, especially if you are only working towards that goal to gain approval from others. Set your goals for YOU and YOU only, and you will be sure to be successful.
Time-bound: Finally, it is important that your goals include a start and end time. Timing your goal makes it easier to keep track of your progress. For example, "In the next three months, I want to be able to work out for at least three times a week." In addition, breaking these timed goals into small pieces, like a week or a month at a time, will make them more approachable. So instead of saying, "I want to lose 50 pounds this year," saying "I want to lose 5 pounds this month" will make this large goal seem more possible.
What are good motivating factors?
To keep your motivation level strong, it is important to have some non-scale goals, or goals that have no number attached to them. For example, some non-scale goals may include:
Having more energy to play with your kids or grand kids.
Moving around with less pain.
Being on a reduced number of medications.
Fitting in an airplane seat or amusement park ride seat comfortably.
What is a Realistic Weight Loss Goal?
If you are one of the many people who wish to lose weight for the new year, it is important  to set healthy expectations. Fad diets may promise 20 pounds lost in 20 days, which may seem great. However, these quick results usually only end up with quick weight regain. This is because such plans end up depriving you of nutrients, make eating healthy feel miserable, and are hard to stick to long-term. The Centers for Disease Control and Prevention report that 1 to 2 pounds a week is a healthy rate of weight loss.
More Simple Steps to Getting Healthy This New Year
Simplify healthy eating. Instead of getting obsessed with counting every calorie and macronutrient, stick to the basics.  Get out your measuring cups and smaller dinner plates (about 9-inches in diameter) and follow these simple tips:

Have at least 2 cups of non-starchy vegetables each day, which do not include corn, peas, and potatoes. With the plate method, fill half of your plate with the non-starchy vegetables at meal time.
Limit starchy, refined foods such as rice, potatoes, and pasta. Stick to 1/2 cup at each meal, or with the plate method, 1/4 of your plate. Choose high-fiber starches such as brown rice, quinoa, beans, or sweet potato.
Make sure you eat enough protein. Although this may seem easy enough, I find a lot of my patients do not eat enough healthy proteins. To determine your protein needs each day, you can multiply your weight in pounds times 0.3 to give you an estimate in grams.  You may need more protein daily if you workout frequently.

Be more mindful. Mindfulness is important for all aspects of life. In eating, mindfulness may include:

meal planning and prepping
asking yourself if you are eating for hunger or emotions
chewing more per bite to really savor and enjoy your food
Mindfulness in exercise may be choosing exercises you enjoy or listening to your                        body to find ways to move without causing pain. Everyday you can be mindful by                       being present in each moment. You can do this by listening actively to others and using relaxation breathing and meditation to manage stress.
Track your progress. Download an app like MyFitnessPal or MyPlate to help you track what you consume and the calories you burn. Some apps, such as Apple Health or Calm, can help you keep track of the number of mindfulness minutes you engage in daily.
Fill in the gaps with vitamins and supplements. Even the healthiest diets may be lacking some vitamins. In addition, some climates that may have less days of sunshine may make individuals prone to vitamin D deficiency.  It never hurts to have your healthcare provider check for your levels of vitamin D, vitamin B12, magnesium, and iron. Low levels of these nutrients may result in such symptoms as low energy, depressed mood, or trouble sleeping.  Zestia by Vita Sciences contains several of these nutrients in addition to probiotics and a SuperFood complex to help promote optimal health inside and out.
Reward yourself. Every small goal you achieve should be celebrated. If you went a whole week without any drinking any sugary drinks, then reward yourself with a relaxing hot bath, or by enjoying a relaxing movie night at home.
-written by Staci Gulbin, MS, MEd, RD, LDN
Sources:
Centers for Disease Control and Prevention (May 15, 2015) "Losing Weight."
Medline Plus (December 28, 2017) "8 Small Changes for a Slimmer You in 2018." 
Richardson, H. (December 29, 2017) "Holly Richardson: Resolutions, SMART goals, CLEAR goals and BHAGs."
Rossy, L. (April 29, 2016) "How Mindfulness Can Help You Stay Motivated to Exercise."