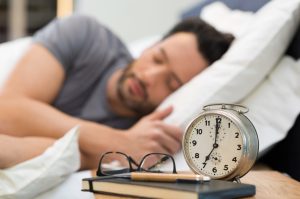 Sleep is a precious commodity in your busy life. Between work, taking care of loved ones, and running errands, it is a wonder you find time to sleep at all. However, it is important to make time for sleep because of all of the health benefits adequate sleep can provide. A recent study suggests that making a to-do list may help ease your mind so you can capture more sleep.
Why Is Sleep Important?
When you sleep, your body helps to regulate many processes in the body. Blood pressure, blood glucose levels, and bodily fluids are just a few of the processes regulated during sleep. When you do not get enough sleep, you can increase your risk of high blood pressure and elevated blood glucose levels. In addition, research has found that those who consistently received less than six hours of sleep each night were more likely to have a higher body mass index than those who received at least eight hours of sleep each night. Therefore, long term lack of sleep can not only increase risk of chronic diseases such as heart disease and diabetes, but also increased obesity risk.
How Much Sleep Is Enough?
The National Sleep Foundation recommends at least seven hours of sleep each night for most adults.  Children two years of age or less require around 14 hours of sleep each day, including naps. Those between the ages of three and eighteen require around 10 hours of sleep each night. Children require more sleep to support their body's growth and development.
Quality of sleep is just as important as quantity of sleep. Sleep quality may be low if you do not feel rested upon waking, wake up during the night, snore, or gasp for air during sleep. Sleep disorders such as sleep apnea may affect your body's ability to get oxygen during sleep. This can impact safety during sleep and can make you feel fatigued upon waking.  If you experience interrupted sleep or wake up tired, you should see your healthcare provider for further assessment.  Pain, frequent urination, or breathing problems could prevent you from getting more sleep.
To-Do List and Sleep Research
A study in the Journal of Experimental Psychology looked at 57 Baylor University students and the effects of writing down unfinished tasks on sleep.  One group of students wrote down unfinished tasks, while the other group wrote down tasks previously completed.  All students were in a controlled environment and told to go to sleep at a set time. They were prohibited from staying up to look at phones or complete any other tasks.  Those who wrote down unfinished tasks were found to have improved sleep by use of an overnight polysomnography test.  Larger studies and observation of other age groups and individuals with sleep disorders such as insomnia will need to be done to confirm the effectiveness of such strategies.
Other Ways to Help Improve Sleep
Besides making to-do lists, here are some other ways to help you get more sleep and improve quality of sleep each night.
Stay on a sleep schedule each night to help your body's clock regulate itself. It may take some time to adjust to an earlier bedtime or earlier wake time. However, over time your sleep patterns will enhance quality and quantity of sleep.
Exercise each day to help your body exert some energy.  Not only will exercise help improve your sleep, but it can also help manage your weight, which can in turn help you reduce risk of sleep disorders such as sleep apnea.
Take time to relax before sleep by engaging in meditation, relaxation breathing, and reducing screen time. The light from the screens on phones, computers, and television can interrupt the sleep-wake cycle. Adding in essential oil diffusion such as with lavender can help induce relaxation. In addition, drinking herbal teas with chamomile can help induce sleep.
Avoid alcohol, caffeine, cigarettes, or heavy meals before bedtime since such things can cause interrupted sleep. Caffeine and alcohol can act as a diuretic, which may cause frequent urination that can interrupt sleep. On the other hand, the nicotine from cigarettes act as a stimulant and can in turn disrupt the sleep-wake cycle.  Finally, heavy meals less than two hours before bedtime can cause indigestion and increase risk of heartburn, which can interrupt sleep.
Ensure your sleep environment is conducive to sleep. Every ten years, you should replace your mattresses. Every few years or so, you should also replace your pillows  to prevent exposure to allergens such as dust mites. In addition, reduced exposure to light sources in the evening can help keep your body's rhythms in check.  You can use blackout curtains to help reduce the amount of natural light in your bedroom.
Add a supplement to your bedtime regimen to help you get more sleep.  Somnova by Vita Sciences contains ingredients such as melatonin and L-theanine to help promote restful sleep.
If none of these strategies are helping, then be sure to visit your healthcare provider for more sleep guidance.
-written by Staci Gulbin, MS, MEd, RD, LDN
Sources:
Centers for Disease Control and Prevention (March 2, 2017) "How Much Sleep Do I Need?"
Division of Sleep Medicine at Harvard Medical School (December 18, 2007) "Sleep and Disease Risk"
National Sleep Foundation (accessed January 15, 2018) "Healthy Sleep Tips."
National Sleep Foundation (accessed January 15, 2018) "How Much Sleep Do Babies and Kids Need?"
Science Daily (January 11, 2018) "Can Writing Your To-Do's Help You To Doze? Study Suggests Jotting Down Tasks Can"