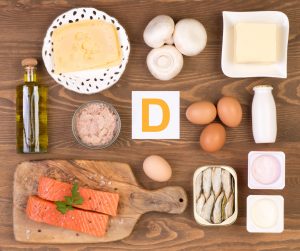 Vitamin D, known as the sunshine vitamin, is a very important nutrient for overall health. Best known for its work in helping strengthen bones and teeth, vitamin D is starting to get more attention for other benefits it could provide.  A recent study reports that cells damaged by heart attack or stroke may be repaired by vitamin D3.
What is vitamin D?
Vitamin D is a fat-soluble vitamin that you can not find in many foods. However, vitamin D is important for many functions such as bone health.  It is called the 'sunshine vitamin" by some because it can be absorbed into the body through sunlight exposure. Because of this, those who live in cloudy climates or do not leave the house often may be low in vitamin D.  You can find Vitamin D in such foods as fortified milk, yogurt, or orange juice, as well as fatty fish such as salmon or trout.  Cod liver oil is also a good source of vitamin D.
Most adults should get at least 600 International Units (IU) of vitamin D each day. Vitamin D is not a standard lab you will get at your annual visit. Therefore, you may have to ask for the vitamin D lab.  You will be prescribed a vitamin D supplement if labs find you to be low.  Research shows that vitamin D3 is absorbed better than vitamin D2, so it is the preferred choice for a supplement. You can find Vitamin D3 in a variety of forms such as:
Maxasorb comes in 1000 IU and 2000 IU formulas and can be conveniently rubbed on the skin like a lotion.
Endothelial cells and vitamin D3
An innovative study tracked single endothelial cells, or blood vessel cells, to see the impact of vitamin D3 on their health status.  Heart health events such as heart attack or stroke as well as conditions such as diabetes or high blood pressure can damage such cells.  The study showed that vitamin D3 helped such cells repair themselves from such damage. Also, the study found that the vitamin lowers oxidative stress in the cardiovascular system by stimulating nitric oxide (NO) levels.  This turn of events increases blood flow and protects the blood vessels from damage. Recent findings also show that a deficiency of vitamin may increase risk of a heart attack and may reveal a link to depression. Therefore, taking a vitamin D3 supplement may greatly benefit many aspects of health.
Other ways to improve your heart health
Although vitamin D is important, there are many other ways you can improve your heart health.
Eat plenty of fruit and vegetables since such foods are rich in fiber. A fiber-filled diet is good for digestive health, keeps you fuller longer, and in turn can help you maintain a healthy weight. A fiber rich diet can also help you control blood glucose levels and keep cholesterol at healthy levels.
Stay active often at least 15 to 30 minutes a day most days of the week. No need to be in a boot camp exercise program.  Engage in simple exercises such as walking, water aerobics, gardening, dancing, to name a few to help keep your heart healthy.
Drink more water and less alcohol to not only help manage your weight, but also to stay hydrated and keep your liver healthy as well.
Don't smoke or quit smoking since this unhealthy behavior can constrict blood vessels and in turn increase blood pressure levels.
Maintain a healthy weight by performing all of the healthy lifestyle behaviors mentioned above since less body weight places less pressure on your heart, and in turn can help lower your risk of heart disease and related conditions.
-written by Staci Gulbin, MS, MEd, RD, LDN
Sources:
DiSalvo, D. (January 31, 2018) "Study Examines Vitamin D3's Potential Effects On Blood Vessels."  Forbes.com
Harvard Health Publishing: Harvard Medical School (accessed February 5, 2018) " These five habits can save your heart- here's how." 
National Institutes of Health: Office of Dietary Supplements (February 11, 2016) "Vitamin D"
Tripkovic, Laura et al. (June 2012) "Comparison of Vitamin D2 and Vitamin D3Supplementation in Raising Serum 25-Hydroxyvitamin D Status: A Systematic Review and Meta-Analysis." The American Journal of Clinical Nutrition 95.6 (2012): 1357–1364. PMC. Web. 5 Feb. 2018.