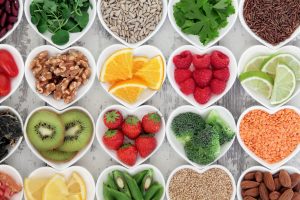 If you've ever tried to eat healthy, which I'm sure most of us have, then you may have been told to eat more vegetables. This is a tried and true statement that is vital to every healthy lifestyle. This is because plant-based foods like fruits and vegetables are full of gut-healthy fiber and antioxidants.  In turn, this helps to lower your risk of chronic diseases like heart disease and diabetes. That is why it may not be surprising that a recent study shows that a plant-based diet may help diabetes treatment.
What is a plant-based diet?
There are several ways you may view a plant-based diet. And you don't have to be a vegetarian or vegan to reap the benefits of this eating plan. In fact, the definition of a plant-based diet is a group of eating habits that avoid eating most or all animal products and support mostly intake of fruits, vegetables, legumes, seeds, whole grains and nuts. Therefore, all you have to do is include a plant-based food to each meal or snack time. So try to pick a variety of colors of plant-based foods to reap the benefits of the vast array of antioxidants.
Plant-based diet research
There is a lot of research supporting the benefits of a plant-based diet. Research shows that such a diet can help improve mental health, heart health, quality of life, HbA1c levels, and body weight. It can also help people manage their diabetes. It's thought that these health benefits stem from the antioxidants in produce that help improve gut health and decrease oxidative stress and related inflammation. Also, plant-based foods provide a ton of nutrients like fiber, potassium, magnesium, folate, iron, and vitamins A and C.
A recent study looked at how the vegan diet may help those with diabetes. Researchers looked at the effects of vegetable-based foods on health versus animal-based foods. For sixteen weeks, 20 people with type 2 diabetes were fed either veggie-based burgers or meat-based burgers.
Study results show that the tofu burgers enhanced post-meal insulin secretion more than the meat burger. This means that after meals, blood glucose levels did not rise as much in those on the plant-based diet.  Also, the vegan meal improved beta-cell function, which produces, holds, and releases insulin. This is important since diabetes usually damages the beta-cell function in those who have the condition. Therefore, this study shows that a plant-based diet could help those with diabetes control their condition.
Other ways to help control diabetes
Besides eating a plant-based diet, there are other things you can add to your healthy lifestyle to help control diabetes.
Stay active: Exercise can help increase how sensitive insulin is and can help the body use blood glucose better for energy. Therefore, be sure to move as much as you can each day. This can be walking, cleaning house, walking around the market, or aerobics, to name a few. Every step counts, so just because you can't work out at the gym, that doesn't mean you can't find other ways to stay active and control your blood glucose levels.
Take medications: Many people with type 2 diabetes benefit from taking daily medications that help lower blood glucose levels. Some people may also have to take insulin to assist with diabetes treatment. Your diabetes healthcare team will look at your health history and current health status to find the medicine regimen that will work best for you.
Add a daily supplement: A supplement like Glucarex by Vita Sciences can help control blood glucose levels naturally. Glucarex contains  compounds like chromium, alpha lipoic acid, and cinnamon that can support healthy weight, metabolism, and blood glucose levels.
See your doctor often: If you have a chronic disease like diabetes, it's vital to visit your doctor more than once a year. During these visits, have your labs checked and have your medicines adjusted if needed. This can help you stay on top of your diabetes and lower risk of complications.
-written by Staci Gulbin, MS, MEd, RD of LighttrackNutrition.com
References:
Hever, J., & Cronise, R. J. (2017). "Plant-based nutrition for healthcare professionals: implementing diet as a primary modality in the prevention and treatment of chronic disease." Journal of geriatric cardiology : JGC, 14(5), 355-368.
Kahleova, H., et al. (2019) "A Plant-Based Meal Stimulates Incretin and Insulin Secretion More Than an Energy- and Macronutrient-Matched Standard Meal in Type 2 Diabetes: A Randomized Crossover Study." Nutrients, 11(3): 486.
Kerley C. P. (2018). "A Review of Plant-based Diets to Prevent and Treat Heart Failure." Cardiac failure review, 4(1), 54-61.
McMacken, M., & Shah, S. (2017). "A plant-based diet for the prevention and treatment of type 2 diabetes." Journal of geriatric cardiology : JGC, 14(5), 342-354.
Toumpanakis, A., Turnbull, T., & Alba-Barba, I. (2018). "Effectiveness of plant-based diets in promoting well-being in the management of type 2 diabetes: a systematic review." BMJ open diabetes research & care, 6(1), e000534.