Could you be one of the nearly 30-percent of people with diabetes that are not diagnosed? Symptoms may not always be present if you are at risk for diabetes.  A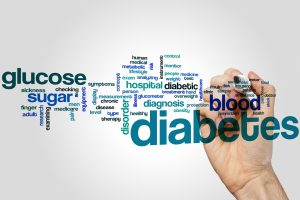 recent report by the Centers for Disease Control and Prevention (CDC) says that over 100 million people in the United States have diabetes or prediabetes.
Know Your Number
Your hemoglobin A1C level, or HgA1C, measures your diabetes risk. You may have never heard about it if it has been in normal range so far.  However, this number is one that can slowly creep up over time, so it is important to track.
So what does this test mean? Your HgA1C is your average blood glucose level from over the past three months.  A healthy HgA1C level is 5.6% or less, whereas 5.7% to 6.4% means that you have prediabetes.  If you have a HgA1C over 6.5%, you may have diabetes.
Recent Stats
A recent report states that nearly one in four people do not know they have diabetes. Just as alarming, over 80-percent of people who have prediabetes do not know that they have it. Untreated prediabetes can lead to diabetes within five years. Also, diabetes can lead to later problems with heart health, vision, and nerve function. Therefore, you should take steps to try and prevent this disease.
Small Steps for Health
Losing just 7-percent of your body weight can help lower your risk of diabetes by nearly two-thirds. Other ways to lower your risk include:
Staying active at least 30 minutes a day for most days of the week. This does not mean you have to go to boot camp or run. Walking, gardening, swimming, and climbing stairs can be great ways to stay active.
Eating a healthy, balanced diet. A balance of lean protein and fiber-rich fruits and vegetables is important for overall health.  On the same note, you should eat mostly whole, fresh foods. Also, you should limit intake of high-sodium, high-sugar processed foods.
Visiting your doctor often to make sure your health is on track.  You should visit your doctor at least once a year no matter what your health status.  If you have a condition such as diabetes or heart disease, you should visit the doctor more often.
Keeping track of your numbers such as blood glucose, HgA1C, and blood pressure can help prevent or treat chronic disease. These numbers can be checked when you visit your doctor.
Taking supplements such as Glucarex by Vita Sciences. Glucarex contains vanadium and cinnamon.  Research shows that these compounds can support healthy blood glucose levels.
-written by Staci Gulbin, MS, MEd, RD, LDN
Sources:
American Diabetes Association (November 21, 2016) "Diagnosing Diabetes and Learning About Prediabetes" http://www.diabetes.org/diabetes-basics/diagnosis/?loc=db-slabnav
CDiabetes (September 5, 2016) "Strategies for Balancing Blood Sugar Levels" http://cdiabetes.com/strategies-for-balancing-blood-sugar-levels/
Centers for Disease Control and Prevention (May 15, 2015) "2014 National Diabetes Statistics Report" https://www.cdc.gov/diabetes/data/statistics/2014statisticsreport.html
Medline Plus (July 18, 2017) "More Than 100 Million Americans Have Diabetes or Prediabetes: CDC" https://medlineplus.gov/news/fullstory_167270.html