Not getting enough rest at night? Scientific studies support using melatonin cream for sleep. The hormone melatonin supports a healthy sleep cycle, helping you get more restful rejuvenating REM cycles. If you wake up often in the middle of the night or have trouble settling into your bedtime routine, then you may just need a soothing melatonin night cream.
For skin renewal, revitalization and allover health and wellbeing, read more about the therapeutic qualities of topical melatonin.
Sleep isn't a luxury!
In order to function well, your body needs plenty of quality restorative sleep at night. This is true for your emotional and physical health, as well as for your complexion. Wrinkles, bags under the eyes, deep lines, sagging skin- these are all signs of premature aging that happen when you don't get enough deep sleep.
As you get older, it becomes harder to get the same quality of rejuvenating sleep as you did when you were younger. Studies have even shown that not getting enough sleep can lead to type 2 diabetes, obesity, anxiety, memory loss, and autoimmune disorders.
Symptoms of insomnia:
Morning fatigue, drowsiness
Brain fog
Disorientation
Memory problems
Anxiety
Depression
Frequent illness
Dry, flaky skin
Wrinkles
Facial lines
Grey, haggard skin
Sagging skin pouches
Under-eye bags and shadows
The sleep hormone
Melatonin is nature's alarm clock. Scientists have found that the hormone melatonin is crucial for healthy refreshing sleep, as it promotes a normal sleep/wake cycle. Your brain begins secreting melatonin as the sun sets, increasing production during nighttime, and then slowly decreasing melatonin levels as the morning draws near.
Unfortunately, as you age, your body slows down melatonin production. Plummeting levels of melatonin make it harder for you to get to sleep and stay asleep the entire night.  That's why it's important to supplement with extra melatonin as you get older. Often, signs of aging such as constant tiredness, haggard skin tone, dryness and wrinkles are just symptoms of sleep debt.
Melatonin cream for sleep
Topical melatonin cream may be one of the greatest, most efficient anti-aging supplements available; therapeutic moisturizers, vitamins and oils team up with powerful sleep-inducing melatonin to help you attain maximum mind and body rejuvenation while sleeping.
Melatonin cream assists your skin's nightly repair cycle.
Melatonin helps people who have trouble getting to sleep quickly and sleeping the entire night.
You can rub melatonin directly into your skin, the largest organ of your body.
Incorporating massage lotion into your bedtime routine is an excellent way to promote relaxation.
Establishing a nighttime ritual is beneficial for good sleep hygiene.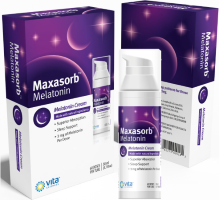 Get Maxasorb Melatonin Sleep Cream for $19.95!
Get more proactive about your health and wellbeing- Add melatonin sleep cream to your daily health regimen.