After a long, hard week you may be reaching for a nice, cold beer or a glass of wine. Sure, an alcoholic drink can take the edge off and lower your stress for a bit. However, it could increase your appetite and make healthy eating very hard to do. A recent study shows that this overeating caused by alcohol could be due to a gene that is activated by alcohol consumption.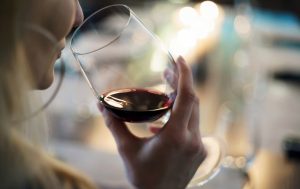 About alcohol
Alcohol has been enjoyed for thousands of years since about the 5th century AD.  This type of drink comes in many forms and flavors, is a central nervous system depressant that can relax the mind and body upon consumption. It is absorbed quickly from the stomach and small intestine into the bloodstream. Drinking too much though can impair mobility and cognition in the short-term. If consumed in excess over many years can increase risk of liver disease.
Ethanol is the active ingredient in alcoholic drinks. This substance is produced by the fermentation of yeast, sugar, and starches into alcohol.  The way that ethanol affects you depends on a variety of factors including age, weight, how much you ate before drinking, and use of medications, to name a few. Regardless of these factors, the recommended maximum intake of alcohol for moderate consumption is 14 standard drinks a week for men and 7 standard drinks a week for women. One standard drink is equal to (ABV=alcohol by volume):
12 ounces beer (5% ABV)
8 ounces of malt liquor (7% ABV)
5 ounces of wine (12% ABV)
1.5 ounces of liquor (40% ABV)
Alcohol and appetite
Drinking alcohol often occurs in establishments which serve unhealthy fare as french fries, nachos, hot wings, and other fried foods.  This type of food is thought to help those who are drinking to sober up. Research has found that all types of protein, fat, and carbohydrates can help you sober up after drinking, as long as you eat something.
So, what if you don't feel like eating after drinking? A recent study has found that this is an unlikely outcome. This is because alcohol triggers a neuron signal found in both animals and humans that increases appetite.  Starvation normally activates this neuron, known as Agrp, to increase a person's motivation for eating.  However, ethanol can also activate these neurons.  This can explain why you may be extra hungry after a few drinks at the bar.
If this type of drinking and eating becomes a pattern, it could lead to weight gain and heart health issues over time. Therefore, it is important that if you do drink alcohol, that you do so in moderation and make sure you limit eating too many unhealthy foods while drinking.
Staying healthy during social hour
Since hunger seems to be inevitable after drinking, week after week of this behavior may impact your health in a not-so-healthy way. Therefore, use the following tips to have your drink and stay healthy too.
Choose healthier food to munch on while drinking: Instead of fried foods, opt for a veggie plate with celery, carrots, and salad dressing. Or you could get a turkey burger without a bun topped with tons of vegetables like lettuce and tomato. Other options like baked chips and salsa, grilled chicken wings, or fruit salad are found at some bars and could be healthier drinking snack options.
Drink lots of water:  Drinking alcohol can dehydrate you since it reduces the activation of the hormone known as ADH or anti-diuretic hormone. When it does this, the kidneys do not reabsorb as much water, so you urinate more. Over time, this can cause you to become dehydrated. Water is needed for many aspects of health, so if you do drink alcohol, drink plenty of water with it.
Find other ways to relax: If drinking wine or beer is a way for you to relax, perhaps try not to do it so much. Find other ways to relax such as walking, reading, yoga, meditation, or exercising, among other things.  You could also take a supplement such as Elevia by Vita Sciences that increases your "feel-good" hormone serotonin to help you relax. Elevia contains ingredients such as GABA and 5-htp to help calm your body and mind.
-written by Staci Gulbin, MS, MEd, RD, LDN
References:
Cains, S., Blomeley, C., Kollo, M., Racz, R., and Burdakov, D. (2017) "Agrp neuron activity is required for alcohol-induced overeating." Nature Communications, 8:14014.
Centers for Disease Control and Prevention (March 29, 2018) "Alcohol and Public Health: Frequently Asked Questions."
Freudenrich, Ph.D., C. (accessed August 21, 2018) "How Alcohol Works." How Stuff Works online.
Gowin, Ph.D., J. (September 15, 2013) "What's the Best Meal to Sober up after drinking?" Psychology Today online.