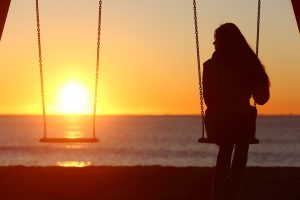 So much focus is placed on diet and exercise to stay healthy, that sometimes mental health care can be forgotten. However, the health of both mind and body is important to be in your best state of health. In fact, a recent report has found that being lonely may be a greater hazard to public health than obesity.
What is mental health?
Mental health considers the well-being of the emotional, social, and psychological parts of one's life.  Although mental health issues can affect the mood of a person, it can also impact important life factors.  The way we feel can affect the way we think, act, make decisions, and how we handle relationships with others, among other things.  Therefore, it mental health should be taken just as seriously as physical health.
How can being lonely affect your health?
A recent report has found that being lonely is a serious public health issue. The health insurance company Cigna reports that most American adults consider themselves lonely, or feel disconnected from the world and people around them.  Younger American, such as those in Generation Z and millennials, report being the most lonely.
Since loneliness is not necessarily a condition on your diagnosis sheet, health care providers may overlook it. However, left untreated, loneliness can lead to more serious mental health conditions such as depression. Experts suggest "social cognitive retraining"  to combat loneliness. This is because the brains of lonely people can make the negative feelings worse if left untreated.  A qualified psychologist or psychiatrist can perform this type of brain retraining.
Ways to help improve your mood
If you feel that your lonely mood is starting to affect your daily life and relationships, then you should contact a health care provider or counselor to get proper treatment. However, if you feel that your lonely feeling is in its early stages, then you may be able to take steps to improve this feeling on your own.
Extend yourself in the community: By volunteering or attending social events, you can feel more engaged in your community. This can help you feel less lonely and perhaps make some new friends and contacts.
Find groups to join that involve your hobbies: Whether you like to read, run, or play music, find local groups in your community to join. These groups can help you meet like-minded people that like the same things that you do. This can help you get out of your comfort zone at home a little and find others to talk with that you have something in common with. One app to help with this is Meetup, which provides you access to local clubs and events in your community.
Take a mood lifter supplement: Elevia by Vita Sciences is a mood lifting supplement. It contains compounds such as GABA (gamma amino butyric acid) and 5-HTP that research shows to calm the mind and body, while boosting levels of the feel good hormone serotonin.
Stay positive: As the saying goes, energy creates energy. If you exude negative energy, then that negative energy will likely remain within you. However, if you go into life and situations with a positive attitude, then it is likely that before long, that positive energy will become a part of you. Certain mental health issues may make staying positive nearly impossible. However, with the help of a mental health professional, counselor, and a network of family and friends to reach out to, you can start to create more positive energy in your life and mind.
Be sure to call the following hotlines if you are experiencing a mental health crisis or have questions about getting started on treatment for your mental health condition.
Sources:
Loria, K. ( June 3, 2018) "Loneliness may be a greater public health hazard than obesity- here are 4 psychology-backed tips to combat it." Business Insider,  http://www.businessinsider.com/how-to-feel-less-lonely-2018-5
U.S. Department of Health and Human Services (August 29, 2017) "What is Mental Health?"