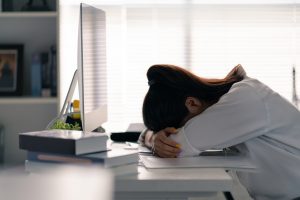 Sleep. Work. Eat. Repeat. Does that sound like your day, or something like it?  Sleep is often set aside as just something that a person does at the end of the day. It is often overlooked as a very important part of optimal health. A recent study found that it is so important in fact, that not getting enough sleep may increase your risk for mental health disorders.
The Importance of Sleep
The average adult needs at least 7 to 9 hours of sleep a night.  This may seem like a lot if you live a busy life which many of us do. And you may shrug it off and say, "Who needs sleep. I don't need sleep." The fact is that sleep is more important than you think, and without it your health could suffer.
So many things happen while you sleep. For example, at rest your body conserves energy, regulates blood pressure, and restores tissues and muscles.  Furthermore, your body regulates fluids and controls hormone levels in the body while you sleep.  Without enough sleep, your circadian rhythm can go off course. In turn, this can lead you to eat when you're not hungry, which can lead to weight gain and increased chronic disease risk over time.
And if these weren't enough reasons to hit the snooze button, sleep also has an impact on the immune system.  Lack of sleep can cause yo to get sick more often, which in turn could put more stress on your body and mind.
Sleep and Mental Health
A recent study looked at about 90,000 residents from the United Kingdom in regards to sleep patterns.  Study subjects between the age of 37 and 73 years wore accelerometers for 24 hours a day for 7 days.  In other words, these devices measured the rest and activity levels of participants. Those with reduced activity during the day or increased activity at night were described as having a disrupted circadian rhythm, or lower amplitude.  Comparing these patterns with questionnaires filled out by participants found links between lower amplitudes and health measures such as:
higher risk of unstable moods
lower levels of unhappiness
lower health satisfaction
greater reported loneliness
Among other findings, it is clear that this study shows that lack of sleep can greatly impact mental health measures, and in turn quality of life.
Ways to Help You Get More Sleep
There may not be enough hours in the day to get everything done.  However, it is really important to make sure sleep gets a priority on your to-do list. Therefore, if you have trouble sleeping, try some of the methods below to help.
Stick to a sleep schedule: Just like your other daily tasks, put sleep on your daily planner. Although it can be hard to do sometimes, setting a time to prepare for bed each night can help you develop a new healthy sleeping pattern over time.
Start a bedtime ritual: When it is coming close to that time of night, start a bedtime ritual that will help your body prepare for bed. Whether it is drinking a cup of herbal tea after dinner, or diffusing some lavender essential oils to relax your body, this type of ritual can reduce your risk of tossing and turning into the night. It is also helpful to reduce caffeine, sugar, and alcohol intake in the latter part of the day as well as turning off any screens during your bedtime ritual to help your eyes and mind rest.
Exercise each day: Any type of movement for at least 30 minutes each day can tire your body out a bit, so you can rest better in the evening. Otherwise, your body will have energy to expend with no outlet to provide it with. In turn, you will likely stay up late and have trouble sleeping. Besides that, exercise is good for keeping your body and mind healthy.
Take a supplement for sleep like Somnova by Vita Sciences. Somnova contains melatonin and l-theanine to help relax your mind, feel refreshed, and get more peaceful sleep. Add a sleep supplement to your bedtime routine about 30 minutes before you plan on going to sleep.
Visit your healthcare provider: If you have tried all of the above, or feel particularly tired upon waking, you may need to see your healthcare provider. This is because your sleep problems may be related to other conditions such as pain issues, sleep apnea, or other health conditions and should be treated under medical supervision.
-written by Staci Gulbin, MS, MEd, RD, LDN
Sources:
Division of Sleep Medicine at Harvard Medical School (December 18, 2007) "Why Do We Sleep, Anyway?"
National Sleep Foundation (accessed May 16, 2018) "How Much Sleep Do We Really Need?"
NIH News in Health (April 2018) "Tick Tock: Your Body Clocks."
Paddock, Ph.D., C. (May 16, 2018) "Sleep-wake disruption strongly linked to mood disorders."