Every once in a while, you may feel a bit gloomy, disappointed, or stressed. However, depression is much more than just having a bad day. Depression is a serious mood disorder that can make simple tasks such as eating, working, and sleeping much more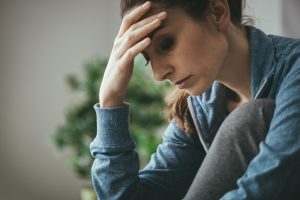 difficult. A recent study has found that low estrogen levels in some women may be linked to depression.
According to the National Institutes of Mental Health (NIMH), depression occurs when you have several of the following symptoms for more than two weeks.
persistent sad mood
hopelessness
loss of interest in things that were once enjoyable
decreased energy
trouble focusing or making decisions
appetite or weight changes
thoughts of taking one's own life
aches or pains with no clear cause
Also, a person may be at higher risk for depression if they have a family history of the condition. Major life changes or chronic health problems may also increase their risk. Most recently, a study in Menopause showed that a lack of estrogen exposure may put women at higher risk for depression.
The study looked at 1300 women and their level of estradiol exposure related to their depression risk. It was found that those with higher levels of estradiol exposure from the onset of menstruation to menopause had lower levels of depression.  Also, those women who had longer term use of birth control had a lower risk of the condition.  It is important to know that the number of pregnancies and use of breastfeeding did not impact these results.
There is no cause and effect of low estrogen and depression, but these study results are still important.  This is because those with earlier menopause, more frequent hot flashes, and less frequent periods all were at higher risk for depression.  Hormone changes are likely to blame for this. During such times during and after menopause, women are at much higher risk for depression than others.
Therefore, if you feel you may be dealing with depression, there are many resources for help.  There is no one treatment that will help everyone. First of all, let your doctor know if you are feeling depressed. Your doctor may be able to provide medicines that may make dealing with your depression easier to deal with. Also, they could test your hormone levels and provide hormone supplements that may reduce symptoms. Other resources for depression are listed below.
Talk therapy with a licensed health care provider can help you talk about your feelings. Such counseling can help you manage your stress better and cope with life issues in a healthy way.
Being more active through walking, running, gardening, or other exercises. The fresh air from nature and the "feel good" hormones released during exercise can help improve mood.
Spending time with other people such as family, friends, or support groups can improve your mood. Talking with others that care about you and your health can help you see that you are not alone in dealing with life's issues.
Setting realistic goals for yourself can make life easier to deal with. Taking small steps towards your goals can make life seem less overwhelming. You should celebrate each small victory and don't be afraid to ask others for help along the way.
Ask your doctor about trying certain supplements such as Estrosa by Vitasciences.  Estrosa contains compounds such as Black Cohosh that have been found to help relieve the hot flashes, weight gain, bloating, and mood swings related to menopause. For both women and men, Elevia by Vitasciences helps boost serotonin levels which can improve mood and calm the mind.
Also, foundations such as Hope for Depression provide valuable resources to help those

with depression learn more about the condition. Also,  this foundation helps support research efforts to find better treatments for those with depression.
-written by Staci Gulbin, MS, MEd, RD, LDN
Sources:
Medline Plus (July 21, 2017) "Estrogen May Influence Women's Depression Risk" https://medlineplus.gov/news/fullstory_167353.html
National Institute of Mental Health (October 2016) "Depression" https://www.nimh.nih.gov/health/topics/depression/index.shtml