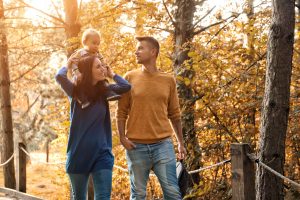 Staying active has many benefits. In particular, you may have been told by a healthcare provider to move more to help manage weight or improve heart health. However, a recent study has found that a walk in the park may also reduce stress levels in the body.
How Much Exercise Do I Need?
The Department of Helath and Human Services recommends that most adults exercise 30 minutes a day for most days of the week. In particular, it is suggested that most adults should engage in:
150 minutes of moderate activity a week or 75 minutes of vigorous activity a week, or a combination of both levels of activity.
2 days each week of resistance or strength training that involves a single set of exercises that includes 12 to 15 repetitions at a weight that will tire the muscles by the end of the set.
This thirty minutes does not have to be all at once. Five minutes here and ten minutes there is enough as long as it adds up to 30 minutes by the end of the day. Also, you may be wondering what moderate activity is. Moderate activity is any exercise that allows you to hold a conversation, but does not allow you enough breath to sing. In addition, you should break a light sweat within 10 minutes of a moderate activity, while vigorous activity will have you breaking a sweat in a few minutes or less. Moderate activities include:
walking
water aerobics
gardening
light dancing
slow bicycling
Walking to Lower Stress
A study by researchers at the Center for Nature and Health at the University of California San Francisco looked at the effects of exercise on a group of 78 parents and children.  This group of parents and children were encouraged to visit local parks as often as possible over the course of the study period. They were either provided maps to local parks and bus schedules or invited to group outings at local parks.
Follow-ups were done at one month and three months after the start of the study. During these follow-ups, self reports, journalling, and salivary cortisol levels were used to measure stress levels.  It was found that every increase in park visits each week was linked to decreases in stress.  In addition, it was found that those who visited the parks often saw:
increased physical activity
decreased loneliness
increased interest in nature
Other Ways to Lower Stress
Besides getting fresh air and exercising, there are many ways you can try to lower your stress levels.
Deep breathing can help relax the mind during stressful times and can also help improve sleep. This type of breathing involves breathing from the diaphragm, which means your stomach should inflate as you inhale and deflate as you exhale. Inhale for several seconds, hold your breath for several seconds, and exhale for several seconds. You may feel a bit lightheaded when starting this practice, so do not perform deep breathing when driving a car or operating machinery.
Simplifying your life by donating items in your home that you do not use such as clothes, excess furniture, or decorative items. Also, delegate tasks when possible at both home and work if possible to lighten your load. Finally, write upcoming events on a calendar and keep a running shopping list so you can lighten the burden on your mind.
Getting enough sleep is important not only for lowering stress, but for overall health. The average adult should get at least 7 to 9 hours of sleep each night.
Eating a balanced diet that is low in sugar, high in fiber, and high in other nutrients such as iron, B12, and vitamin C will help your body perform better in many ways. Some benefits of a healthy, balanced diet include improved cognitive function, better heart health, and an enhanced ability to handle stress. This balanced diet also includes lowering caffeine, increasing water intake, and reducing alcohol intake as well as eating a minimally processed diet. 
Spending more time with others in your family, circle of friends, and/or community since social engagement can help boost "feel good" serotonin levels in the body.
Taking mood-boosting supplements like Elevia by Vita Sciences. Elevia contains GABA, chamomile, and 5-HTP. These compounds can calm the mind and boost serotonin levels.
-written by Staci Gulbin, MS, MEd, RD, LDN
Sources:
Burton, M.D., N. (February 11, 2017) "How to Reduce Stress." 
Healthline (accessed March 5, 2018) "Parl Prescriptions Can Help Lower Stress Levels."
Laskowski, M.D., E.R. (August 20, 2016) "How much should the average adult exercise each day?" Mayo Clinic.com 
Mayo Clinic (May 19, 2017) "Exercise intensity: how to measure it."
National Sleep Foundation (accessed March 5, 2018) "How Much Sleep Do We Really Need?"
Razani, N., et al (2018) "Effect of park prescriptions with and without group visits to parks on stress reduction in low-income parents: SHINE randomized trial."
Watson, S. (June 18, 2014) "Caffiene and a healthy diet may boost memory, thinking skills; alcohol's effect uncertain."