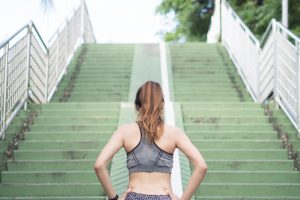 Exercise is an important part of any healthy lifestyle. Along with healthy eating, managing stress, and sleeping enough, exercise is vital for heart health. However, starting an exercise program can be hard.
You may think you have to start going to the gym every day and take intense classes each week to see results. The truth is though that you can reap the benefits of exercise with every step. Switch your focus from trying to fit in long bouts of activity each day. Instead, just try to focus on moving more through the day. This is because research shows that even just two minutes of activity at a time can help heart and brain health.
How much exercise do I need?
For most adults, 30 minutes of moderate exercise is recommended each day for most days  of the week. This moderate exercise can include brisk walking, water aerobics, or dancing, to name a few. During moderate exercise, your heart will beat faster and it will be harder to breathe. However, with moderate intensity you should still be able to talk.
A recent report released by the U.S. Physical Activity Guidelines for Americans showed that any amount of activity can improve health.  Older guidelines stated that a person had to exercise for at least ten minutes or longer for it to count towards daily exercise. However, research now shows that any decrease in sedentary behavior can help.
This is because being inactive causes about 10-percent of premature death in the United States. Therefore, any single bout of exercise, even just a few minutes, can improve sleep, blood pressure, and sharpen the mind. The weekly recommended amount of exercise of 150 minutes remains the same. However, this total can come from any small bout of activity during your day.
How can exercise help brain health?
The heart health benefits of exercise are widely known. First of all, it helps lower risk of heart disease and type 2 diabetes. Secondly, it has shown to improve sleep, lower risk of obesity, and improve mental health. However, what may be lesser known is the impact of exercise on brain health.
When it comes to brain health, exercise has found to have several benefits. First of all, being active can help improve mental health factors like anxiety and depression. Also, being active can improve brain function in those with dementia or multiple sclerosis. Finally, keeping your body active can help just about anyone improve memory, attention, and processing speed.
How can I add exercise in my day?
You don't have to have a membership to a gym to stay active. In fact, just a comfortable pair of walking shoes and a little motivation can help you meet your exercise goals. Here are some tips you can use to add more activity in your day.
Take the stairs instead of the elevator. Although this may not be ideal for those with joint issues, some may benefit from taking the stairs to grab a few more steps in during the day.
Park a bit further out from your destination. When you are going to the store or market, park a little but further out so you can have a few extra exercise minutes during your daily routine. During this same trip, you could also walk a few extra laps of the store or market to collect even more exercise minutes.
Take a walk after dinner with your family, dog, or friends. Not only will this help your food digest a little better, but you can collect some exercise minutes at the end of your day.
Walk during commercials. If the only down time you find during your day is at night, then use your TV time to stay active. During commercial breaks, no matter how short, use this time to walk around the house or walk in place. This will help you collect your exercise minutes before you go to bed.
If you find that joint pain is getting in the way of your exercise goals, try a supplement like turmeric. Turmeric, like that from Vita Sciences, helps to reduce inflammation in the body which can help support a healthy heart and joints. This formula contains 95% curcuminoids as well as bioperine black pepper extract to help improve the bioavailability of curcumin.
References:
 American Heart Association (April 18, 2018) "American Heart Association Recommendations for Physical Activity in Adults and Kids." https://www.heart.org/en/healthy-living/fitness/fitness-basics/aha-recs-for-physical-activity-in-adults
Thompson, D. (November 12, 2018) "Even a 2-Minute Walk Counts in New Physical Activity Guidelines." https://consumer.healthday.com/fitness-information-14/misc-health-news-265/even-a-2-minute-walk-counts-in-new-physical-activity-guidelines-739584.html