It's a myth that migraines are mainly really bad headaches; they're so much more than that. Many migraineurs are surprised to learn that unusual symptoms like vision problems, vertigo, and olfactory hallucinations are linked to migraine disorder. By playing "connect-the-dots" you can come to a better understanding of how migraines work, and things you can do to prevent them.
Migraine symptoms
Chronic migraines are attacks that occur more than 15 times per month. Symptoms can vary between patients, and may not always include headaches.
Signs of migraine attack can include the following:
Excruciating throbbing headache
Strong urge to vomit
Stomach cramps
Dizziness, vertigo
Weakness, fatigue
Visual disturbances (aura)
Partial numbness
Sensitivity to lights and noise
Neck pain
Difficulty communicating
Impaired spatial awareness
Migraines are neurological
Unless you've been to a neurologist or other migraine specialist, you may not have realized that your migraine attacks are caused by "overexcited" neurons in your nervous system.  Migraine disorder is classified as a neurological disorder that occurs when certain elements trigger migraine attacks in your brain.
A migraine trigger can be anything from a salami sandwich to a dry martini; from an intoxicating scent to a stressful day.
Although there is no universal cure for migraines, doctors are sometimes able to reduce your odds of experiencing an attack by preventing such triggers from invading your nervous system.
Trigger avoidance
When a doctor prescribes antiepileptic medicine or antidepressants for migraine headaches, it's because he believes that the same mechanism that occurs with epilepsy or depression may be related to your migraine attacks.
Migraine trigger avoidance is an extended form of migraine prevention, as it focuses on elements in your daily life that make migraine headaches more likely to occur. There are hundreds of migraine triggers that affect migraine sufferers differently. By determining which ones are "red light" triggers, you can effectively reduce the number of migraine headaches you experience each month.
Examples of migraine triggers are foods, scents, lights, weather, hormonal changes, stress, eating habits, sleep schedules, and loud noises.
To identify your triggers, try using a migraine diary for at least a few months. Take note of things like food, mood, weather, medications, sleep, and anything else you think may be relevant.
Migraine prescriptions
Doctors recommend alleviating migraine headaches with over-the-counter medications before visiting a specialist. If NSAIDs fail to relieve migraines, then you may be able to get some help from a neurologist or headache clinic.
However, many prescription migraine drugs come at a high cost- side effects can include memory loss, addiction, dizziness, anxiety, and even…headaches.
Natural migraine supplements
Alternative, complementary nutrients are finding their way into conventional migraine practices. Doctors have seen where magnesium or vitamin B deficiency can worsen or trigger migraine frequency. Certain vitamins, minerals, and herbs help to correct vitamin deficiency while also promoting healthy neurological functioning needed to sustain day-to-day living without migraines.
In various clinical trials, doctors have found the most benefit when migraine patients take a combination of vitamin B2 (riboflavin), magnesium, coenzyme Q10, and PA-free butterbur root each day.
Summary
For migraines, the best approach is one that combines the best of conventional and natural applications.
Minimum painkillers, under doctor supervision
Preventive treatments, also under strict supervision
Simple lifestyle modifications
Relaxation and exercise
Supplementation of nutrients known to help migraines
Try this:
Natural support for migraine syndrome: try best-selling Migravent, with all 4 of the most effective migraine-specific nutrients: magnesium, butterbur, CoQ10 and riboflavin.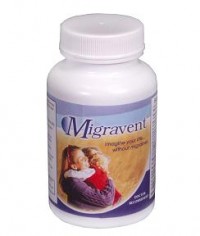 Get Migravent for $39.99 $38.95
Image by marin