Just in the news- scientists have discovered a connection between vitamin B12 deficiency and osteoporosis that may change the way doctors treat bone loss. To promote good bone health, the key may be in sustaining maximum levels of vitamin B12 in your blood supply.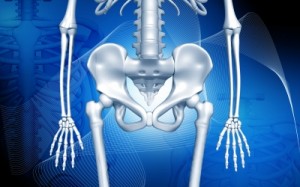 Vitamin B12 deficiency and osteoporosis
Vitamin B12 deficiency is a form of anemia that occurs when your vitamin B12 levels in the blood drop to a dangerous low. In most people, B12 deficiency occurs from vitamin B12 malabsorption- the inability to digest vitamin B12 from foods such as meat, chicken, and fish.
For many people, this occurs as an autoimmune impairment, an improper response to intrinsic factor, a protein needed to completely break down and utilize vitamin B12.
Among the many ailments attributed to vitamin B12 deficiency caused by lack of intrinsic factor, increased risk for osteoporosis was the focus on a study led by researchers from the Wellcome Trust Sanger Institute.
"We were amazed to find a new system that controls bone mass through a protein expressed, of all the places, in the stomach." – Dr Pablo Roman-Garcia, study author
Vitamin B12, the liver, and bone health
In the study, scientists found dramatic bone loss in mice born to mothers with vitamin B12, noting that low vitamin B12 levels accounted for nearly 70% less bone mass than healthy specimens.
While injecting vitamin B12 didn't improve bone health, researchers did find that vitamin B12 supplements had a therapeutic effect on liver cells.  On closer inspection, they noticed that subjects with vitamin B12 deficiency were unable to produce taurine, a natural substance produced in the liver that promotes good bone cell production in preventing osteoporosis.
"While the importance of taurine is yet to be fully understood, this research shows that vitamin B12 plays a role in regulating taurine production and that taurine plays an important role in bone formation." -Dr Vidya Velagapudi, Institute for Molecular Medicine Finland.
Previous studies also confirm these findings, such as one that examined children in Turkey born to mothers with vitamin B12 deficiency where taurine deficiency was also present.
Also, scientists from the Institute for Molecular Medicine Finland saw positive results in bone cell production and taurine synthesis when vitamin B12 supplements were provided.
Helpful Links
More details on the study about vitamin B12 deficiency and osteoporosis can be found here: Pathway between gut and liver regulates bone mass
Watch the video on YouTube: Vitamin B12: A Bone Pathway
Vitamin B12- Essential for Chronic Pain Management
Image by renjith krishnan