Do you always know if you're experiencing migraine or tension headache symptoms? Both can occur from extreme stress and fatigue. To prevent rebound headache and find the best treatment possible, it's important to know exactly what's causing your headache to begin with. Here is a handy chart to help you learn different symptoms and treatments for migraine and tension headaches.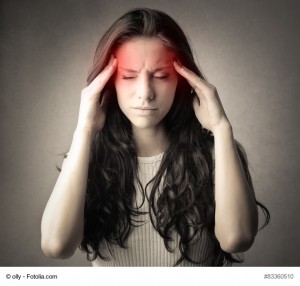 Migraine or Tension Headache: Quick reference
Migraines are a neurological disorder causing a vast array of symptoms, including debilitating head pain that last for hours, sometimes days. In addition, sufferers experience tiredness, nausea, stomach pain, dizziness, and the need to vomit.
Tension headaches are primarily caused by stress and fatigue. Headaches from tense muscles are much easier to treat than migraines, as they respond to medication much better.
Head pain type
Tension headache: Dull pressure, the sensation of a band strapped tightly across the head or neck. Pain is mild or moderate.
Migraine: Throbbing, intense pounding on one side of the head, often at the temple or eye areas. Pain is moderate to extreme, making it difficult to concentrate or think about anything else.
Location of head pain
Tension headache: Scalp, forehead, neck, temples.
Migraine: Temples, eyes.
Pain duration
Tension headache: Pain increases and subsides over the course of the day, or for several days.
Migraine: Headache comes on strong, stays intense for hours. For people with chronic migraines, headaches return repeatedly- more than 15 times per month.
Comorbid symptoms
Tension headache: Insomnia, neck stiffness, stress.
Migraine: Sensitivity to lights (photophobia), scents, and noise; nausea, vomiting, stomach pain, vertigo, distorted speech, partial paralysis, feebleness, loss of consciousness, visual distortions.
Headache triggers
Tension headache triggers: Stress, tiredness, bad posture, eye strain, hunger.
Migraine headache triggers: Food ingredients, scents, noise, bright lights, weather, allergies, air pressure, stress, tension headaches, hunger, irregular sleep patterns, dehydration, cigarette smoke, hormonal fluctuations.
Warning signs
Tension headache: None.
Migraine (with aura): Prodrome phase that occurs hours before, causing symptoms such as euphoria, olfactory hallucinations, unusual cravings, and edginess. Minutes before, some migraineurs experience aura- strange visual disturbances and stroke-like symptoms.
Migraine Aura and Prodrome- What's the Difference?
Prevalence
Most headache sufferers- from tension type and migraine combined- are female.
Treatment
Tension headache: Nonsteroidal anti-inflammatory drugs (NSAIDs) are usually sufficient to get rid of a tension headache, although it may take a few days.
Migraine: There are many different types of migraines, so only your doctor can prescribe the best possible course of treatment for symptoms of migraine attacks.
There is no cure for migraine illness, but by using daily migraine preventative treatments, many are able to thwart off the majority of migraine headaches and symptoms of nausea, dizziness, and fatigue.
Popular natural herbs and vitamins for migraine help include PA-free butterbur root, magnesium, riboflavin, and coenzyme Q10. Find them here.