Many people today suffer from vitamin B12 deficiency that hasn't been diagnosed. To cure vitamin B12 deficiency, it's important to understand how you got it and which B12 supplements are the best to relieve symptoms and prevent pernicious anemia.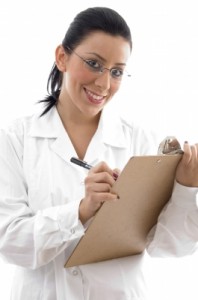 1) Get a blood test- save results!
Some of the earliest symptoms of vitamin B12 deficiency are easily confused or misdiagnosed. Memory problems, fatigue, and depression are sometimes attributed to old age or mental illness without testing for low vitamin B12 levels; that's why getting tested is an important first step in curing vitamin B12 deficiency.
A simple blood test can determine if your vitamin B12 levels are at a dangerous low. This is important to know, because severe vitamin B12 deficiency (pernicious anemia) can lead to irreversible nerve damage, mobility problems, handicaps, and sometimes death.
Once you get blood test results, save them in your personal files for future reference. You may need to repeat tests often, so it will help to have a record that you can use to track vitamin B12 serum levels.
2) Know the symptoms of B12 deficiency.
Sometimes, the symptoms you're experiencing can speak volumes when blood test results show a "medium range" of vitamin B12 deficiency.
In fact, it's not uncommon for patients to be turned away by their healthcare providers simply because their vitamin B12 levels were not low enough to qualify for supplementation.
Common symptoms of medium-low range vitamin B12 deficiency include:
Depression
Fatigue
Slow talking
Brain fog
Painful numbness and tingling in the extremities (hands and feet)
Anxiety
Pale complexion
Electric shock sensations
Tinnitus (ear ringing)
Muscle pain and spasms
3) Understand your diagnosis.
What's the cause of your vitamin B12 deficiency? Is it because you follow a vegan diet? If so, then you have dietary vitamin B12 deficiency, and any quality vitamin B12 supplements can help reverse symptoms.
For many others, vitamin B12 deficiency is caused by vitamin B12 malabsorption, the inability to digest vitamin B12 from food or dietary supplements. In such a case, the only cure for vitamin B12 deficiency is through supplements that enter the blood stream directly, bypassing digestion in the stomach.
4) Get the right vitamin B12 supplements!
Vitamin B12 injections and other forms of B12 that are absorbed through the skin are the only option for vitamin B12 malabsorption.
The following are risk factors for vitamin B12 malabsorption:
Family history for pernicious anemia or intrinsic factor antibody
Gastrointestinal disorders
Autoimmune disorders
Gastric bypass surgery
Medication for diabetes, GERD, depression, or frequent infections
Alcoholism
5) Increase potassium and iron as neurological symptoms improve.
During your course of vitamin B12 supplementation, you may need to increase your intake of foods containing potassium. First, ask your doctor to test your potassium. Then, eat more foods that are rich in potassium, or take supplements.
6) Take as much vitamin B12 as you need.
It can take a while to reverse the signs of prolonged vitamin B12 deficiency. Understand that you're perfectly safe in taking as much vitamin B12 as you feel you need, and that according to the FDA, these are no side effects associated with "too much vitamin B12."
7) Take vitamin B12 supplementation into your own hands.
Your healthcare insurance may only agree to cover a minimal amount of vitamin B12- enough to prevent nerve deterioration and death, but not enough to cure constant fatigue, memory loss, irritability, and that general feeling of being out-of-sorts.
Many patients have to use over-the-counter vitamin B12 supplements, in addition to B12 injections that they receive by their doctor.
Don't let your healthcare provider dictate how much vitamin B12 is enough- if you need more than the allotted dose, then you may have to shop online for quality non-dietary vitamin B12 in order to really boost energy and fight fatigue.
8) Make sure pernicious anemia is noted.
If your doctor believes that you are unable to digest vitamin B12 from foods, and that you need lifetime vitamin B12 supplementation, then make sure "pernicious anemia" is listed in your health records.
9) Check folate levels.
You may require more folic acid, which works in conjunction with vitamin B12.
10) Check iron levels.
Signs of fatigue can also be caused by low iron, so make sure your doctor monitors you for low and hyper iron levels.
11) Take more B vitamins.
Vitamin B12, folate, and vitamin B6 work together, so it's a good idea to take B-complex vitamins along with your regular doses of vitamin B12.
12) Be your own advocate!
Unfortunately, many doctors refuse to believe that a set of debilitating neurological symptoms can be cured with a vitamin- even vitamin B12 deficiency! You may have to shop around for a more sympathetic doctor.
Also, you can push for more testing- other ways of diagnosing vitamin B12 deficiency include:
Serum MMA – (methylmalonic acid)
Urinary MMA
Active B12 (HoloTc or Holotranscobalamin)
Elevated homocysteine
MTHFR – methylenetetrahydrofolate reductase (gene mutation)
Gastric Parietal Cell Antibodies
Gastric Intrinsic Factor Antibodies
MCV level (mean corpuscular volume)
Do you have questions about vitamin B12 deficiency cures, symptoms, or diagnosis? Please feel free to comment below.
Image by imagerymajestic