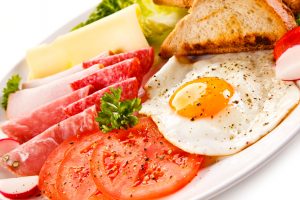 Are you one of the 30-percent of the American adults that skips breakfast? Time and time again you may have heard that breakfast is the most important meal of the day.  A recent study has found that breakfast may improve heart health by reducing risk of heart disease.
Breakfast and Heart Disease Risk
According to the American Heart Association, eating more in the morning and less at night may reduce the odds for a heart attack, stroke, or other cardiac and blood vessel diseases. This is because those who skip breakfast tend to snack more throughout the day. Furthermore, such snack options may not be the healthiest choices. When people eat breakfast, they have been found less likely to have high cholesterol and high blood pressure. In addition, breakfast eaters tend to have less risk factors for heart disease such as obesity, diabetes, and overall poor nutrition.
It is thought that meal timing may be the primary reason for this correlation between breakfast eating and lower heart disease risk.  It is thought that humans do not process sugars as well in the night time hours as in the morning. Therefore, a person that eats breakfast will most likely in turn eat a sensibly-sized dinner. This sensible dinner, as opposed to snacking or overeating, will contain less sugar than the latter.  Therefore, breakfast eaters will likely have less chance of elevated blood glucose levels and excessive caloric intake that could lead to obesity and related conditions such as heart disease and diabetes.  However, there is a chance that some individuals that add breakfast could actually gain weight. This is likely related to the food choices and portion sizes that are being made during each meal time.
What is a healthy breakfast?
A healthy breakfast, or any healthy meal for that matter, should consist of a good balance of protein and fiber. Protein from lean meats, dairy products, eggs, or plant-based protein such as nuts, seeds, or beans would be balanced along with a fiber-rich serving of whole grains, fruits, or veggies. In addition, limiting salt intake, red meat, as well as high-sugar foods can also reduce risk of heart disease.
What else can I do to improve heart health?
Other lifestyle changes that can be made to improve heart health include:
planning and prepping meals ahead of time so you do not rely on convenience foods
having grab-and-go healthy snacks available if you have a busy schedule; examples include smoothies, portable fruit like apples, oranges, or bananas, or healthy non-perishable protein-rich foods such as nuts, seeds, and low-sodium turkey jerky
stopping "kitchen hours" at a certain time to prevent overeating at night and mindless snacking
Finally, you can also add a heart-healthy supplement to your daily regimen such as Alestra. Alestra is a plant-based supplement containing Gugulipid, niacin, garlic bulb herb powder, cayenne, and phytosterol concentrate.  It works to support healthy cholesterol levels and support heart health. Visit the Vitasciences website for more information on Alestra, or one of their other heart-healthy supplement products.
Be sure to visit the American Heart Association website at Heart.org for more information on the latest research and other helpful information on ways you can improve your heart health.
-written by Staci Gulbin, MS, MEd, RD, LDN
Sources:
Rapaport, Lisa (2017 Jan 31) "Skipping breakfast may be bad for your health, doctors say" Reuters, http://www.reuters.com/article/us-health-cardiovascular-meal-timing-idUSKBN15F2GW
St.-Onge, M-P, et al. (2017 Jan 30) "Meal Timing and Frequency: Implications for Cardiovascular Disease Prevention: A Scientific Statement from the American Heart Association." Circulation, Volume 135: Issue 7.