Heart disease risk increases as you age. Vessels can become more narrow and damaged, while the heart can become thickened and weak. However, a recent study has found that with a little hard work, keeping a young heart into your golden years is possible.
The American Heart Association states that "Life's Simple 7" rules can help decrease heart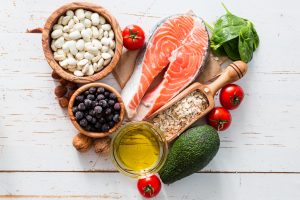 disease risk.  These rules include:
Keeping blood pressure normal
Maintaining low cholesterol levels
Keeping blood glucose levels down
Staying active
Eating healthy
Losing weight
Stopping smoking (or never starting if you don't smoke)
A recent review of the Framingham Study found that those individuals who met six out of seven of "Life's Simple 7" were ten times more likely to maintain healthy blood vessels into old age than those who met none of the goals. Also, out of the 3200 adults aged 50 years and older reviewed, those who maintained the healthiest vessels did the following three things:
maintained a healthy weight
did not develop diabetes
kept cholesterol levels within healthy levels
Furthermore, those individuals who had healthy blood vessels had more than a 50-percent lower risk of getting heart disease or stroke.  Subjects were thought to have healthy blood vessels if they had normal blood pressure and supple blood vessels as measured by pulse-wave velocity.
Nearly 20-percent of those who had healthy blood vessels were in the younger end of the group, while only 1-percent were 70 years of age or older. Therefore, it is easy to see that maintaining healthy blood vessels into older age is not easy, but not impossible.
Follow these tips to help keep young and healthy blood vessels for life:
Eat a low sodium and high fiber diet.  Consume mostly fresh or frozen fruits and vegetables for more fiber. In addition, reduce intake of processed foods such as deli meats, boxed goods, packaged snacks, and canned soups. Also, limit fried foods, whole fat dairy products, and fatty meats in your diet. Instead, replace such unhealthy fats with healthier fats such as plant-based oils, avocado, fatty fish such as salmon, nuts, and seeds.
Stay active for most days of the week. It is thought that moderate exercise for 30 minutes, 5 days a week can lower risk of getting heart disease or having a stroke. Moderate exercise does not mean boot camp or running. However, simply walking, dancing, gardening, or riding a bike can count as moderate exercise.
Take supplements such as Alestra by Vita Sciences. Alestra contains niacin, plant sterols, & garlic that has been found to support healthy cholesterol levels. Also, niacin and plant sterols are vegan-friendly for those who are following a plant-based diet.
-written by Staci Gulbin, MS, MEd, RD, LDN
Sources:
American Heart Association (February 2014) "American Heart Association Recommendations for Physical Activity in Adults" http://www.heart.org
Mayo Clinic (July 29, 2014) "Heart Disease: Risk Factors" http://www.mayoclinic.org
MedlinePlus (May 30, 2017) "Can a 70-Year-Old Have the Arteries of a 20-Year-Old?" https://medlineplus.gov/news/fullstory_166076.html